South West Championship 2010

5th – 11th June 2010 at Trevose Golf & Country Club
The 2010 South West Counties Championship (SW Week) is being held in Cornwall at Trevose GC and got under way today with a practice round for all six counties. The Captain Iain Donnelly has selected the following squad to represent Dorset over the next six days: David Norton Parkstone, Tom Leech, Andrew Windsor, Matt Hector, Giles Legg, Corey Coshan Ferndown, Jon Welch, Robbie Mabb Weymouth, Tony Lawrence, Josh Moses Sherborne and Harry Shaw Canford Magna.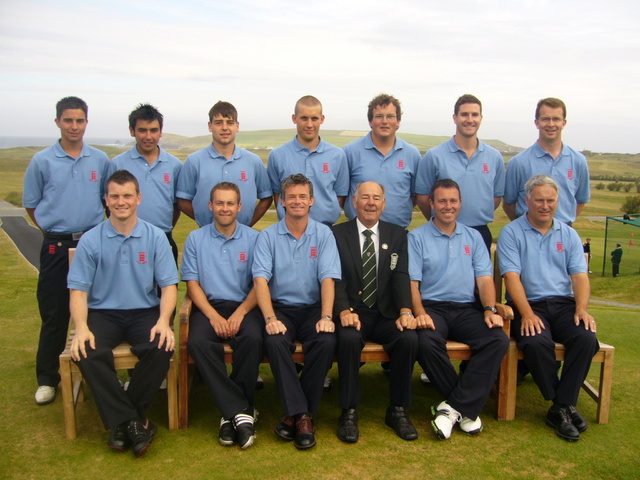 Back: Robbie Mabb, Harry Shaw, Corey Coshan, Josh Mose, John Welsh, David Norton & Martyn Thompson (Coach)
Front: Tom Leech (County Champion), Andrew Windsor, Iain Donnelly (Captain), Doug Pratt (President) Giles Legg & Tony Lawrence.
The format of the week is each county plays each other Singles am and Foursomes pm so the order of play is below with the SW Individual Strokeplay Championship and EGU County Qualifier being played over 36 holes of Stroke Play on Tuesday. I will post the results of each of our matches at the close of play each day to keep you up to date.
---
SUNDAY 6th JUNE
Wiltshire v Dorset

Result: Wiltshire 6.50 Dorset 7.50
The first match of the 2009 SW Week saw us up against last years Stroke Play Champions Wiltshire and the morning singles went against us losing 5 - 3 with a few games perhaps given rather than lost. The highlight of the singles was to see Giles Legg take the scalp of Ben Stow 6 & 5 and Jon Welch who was hit with three birdies late on hole a good four foot putt to see off his opponent 1 up. Corey Coshan secured the remaining point having come back from being 3 down after 5 to win 2 & 1. Lets hope we can turn around the match in the foursomes.
With the Captain happy with his pairing for the foursomes it was pleasing to see we again took 3 of the matches to gain the overall win and get off to a great start. Congratulations to all the players on digging deep after the disappointing morning and producing a resounding victory for the Captain. Late pairing of Jon Welch and Corey Coshan had a cracking match and when closing it out on seventeen were 5 under and won 2&1. Giles and Tony struggled to get going and were under the cosh to Ali James and Josh Loughery finally going down 3&2. Dave Norton with debutant Harry Shaw took control of their match early on and closed it out on the fourteenth for a fine 5&4 win. This just need our steady back pair of Tom Leech and Andrew Windsor (Tom & Jerry for short) to win to secure the victory and when they came down fourteen and Andy put Tom against the boundary wall it looked like it may go all the way to the wire, but a great third shot from Andy made up for the tee shot and with their opponents now struggling they walked off 4 up, Tom then played for the middle of the fairway on fifteen and Kev Phillips drove the greenside bunker, Andy put it to with 8 foot with the second and sadly the Wiltshire pair struggled to get out of the bunker and a handshake offered saw us win the match 5&3 securing the overall victory and a repeat of last years match.
---
MONDAY 7th JUNE
Devon v Dorset
Result: Devon 8.50 Dorset 5.50
With the rain pouring we were on our way against one of the favourite Devon. Corey Coshan led the way and had a great tussle with Jon White finally coming out on top at the last 1 up. Robbie Mabb made his SW debut and an early door stood his ground and was soon up, David Blick fought back and came out on top 3&2. Jon Welsh got off to a shaky start was soon 3 down, a great halve at nine to stay only two down having won the eighth was followed by an eagle at ten and birdie at eleven to be all square. John then piled on the pressure and his opponent cracked allowing Jon to win 4&2. Gild to secure a halve. Andrew and Josh both played steady golf both winning by 2&1 our congratulations to josh on his first single win. County champion Tom found it tough going and was finally beaten 2&1 by James Dimond. Yesterdays Foursome pairings who over turned Wiltshire were sent out in the afternoon this time just looking for two wins to secure the match. This was not to be as we took a pasting in the first match going down 6&4. Giles and Tony were 3 up but a spirited fight back by their opponents saw them lose on seventeen 2&1. Hope was still there as Harry and David came down seventeen 1 up but a little inexperience from Harry saw the ball go into the stream at the front of the green, and worse to come as off the next tee they found sand and ended up losing 1 down. Andy and Tom were struggling and they finally ran out of steam losing 2&1. So after the mornings hard work a very disappointing result and a taste of how Wiltshire felt yesterday.
---
TUESDAY 8th JUNE
SW COUNTIES STROKE PLAY CHAMPIONSHIP
Somerset will be representing the SWCGA at this years English County Finals.
---
WEDNESDAY 9th JUNE
Cornwall v Dorset
Result: Cornwall 7.5 Dorset 6.5
The match got under way with Matt Hector fresh to the team leading the way it was a tough battle but eventually losing 2&1. Corey played the welsh international Ben Westgate and was soon 5 down but a spirited fight back from Corey saw him get it back to two but sadly ran out of holes and lost 2&1. Harry Shaw was unlucky not to get the win but halve was a good result. Jon lost to some fine golf 4&3 and sadly Andy came up a formidable opponent getting on the wrong side of 5&4 defeat. David Norton gave his opponent a pasting 5&4 along with Tom who secured a good 2&1 victor, Giles was up for most of the match but was pegged back and ended going up eighteen level, he sunk a fine 20 foot putt to secure another point and close to gap.
The Foursomes were going well With David and Harry leading the way but with some incredible Cornish luck their opponents clawed it back and ran out 2&1 winners and with the news filtering back that Tom and Andrew were losing badly it was again going to be another defeat, they did in fact fight back a little but went down 4&3 which was the score Giles and Matt inflicted on their opponents. Tony paired up with Jon and they played well together securing another win 3&2. With the spoils being shared in the Foursomes it meant that Cornwall ran out winners.
---
THURSDAY 10th JUNE
Dorset v Gloucestershire

Result: Dorset 4.50 Gloucestershire 9.50

The young gun Harry Shaw led the way today against Gloucestershire and found he was up against the England star Chris Lloyd there is just no phasing Harry as he won 4&3 playing some splendid golf. This sadly was followed by defeat for Robbie Mabb 5&4 Tony Lawrence 3&1 and from the rumours filtering back it was going to be 6 - 2 to our opponents but some spirited fight backs from the Dorset boys was on, firstly Josh went to eighteen and secured a halve, the ever impressive Jon Welch fought hard for a 5&4 win Giles won 3&2 and with Tom fighting back from 3 down to win 2 up it meant we went into the afternoon 4.5 to 3.5 up. Pairs picked it was going to be hard as we tried to secure the victory sadly the first to matches found it hard going with Josh and Harry going down 3&2. Giles and Matt found Stanford and Wood up for it and when Wood putted from off the back of the ninth and sunk it they new they were in for a hard time, this was followed by a birdie at ten and when Matt put the ball on the toilet roof at twelve the game was slipping down the pan putting us two down. Tom and Andrew took their opponents all the way but lost out on the last two down and when Tony hit the green keepers hut on the fourteenth finally going down 3&2 and losing the foursomes again. We now go into tomorrow against Somerset for the decider between the two counties for who takes home the much despised spoon.
---
FRIDAY 11th JUNE
Dorset v Somerset

Result: Dorset 5.50 Somerset 8.50
Tom Leech led the way in the last match of the week which would decide who took home the Wooden Spoon. Tom was always comfortable and won 2&1 Andrew was second out and in the early part was ahead but he seems to have struggled this week and again lost on the eighteenth. Josh came up against the ever impressive Phil White who took the early control and ran out comfortable winner 4&3. Giles was cruising against Max but a spirited fight back saw Giles having to fight hard up the last to win 1up. Harry looked tired and was beaten 3&2 and Robbie will have to wait until the next time for his maiden SW win going down 3&2. Tony was cruising and after nine was 3 up but again he could not hold on and this went all the way to the last with his opponent holing an eight footer to secure a half. Jon Welch was also cruising and when he followed Tony in for the second Dorset Eagle on the par 4 sixth and a great birdie at eight put him 3 up, sadly his putter suddenly stopped working and as he worked of Thirteen he was one down and things only got worse as he conceded the match on sixteen 3&2. So we needed three foursome wins to let Somerset keep the spoon for another year and our first two pairing set it up for a great finish with Josh and Matt leading the way and whilst comfortable had to secure a half up the last to win 1 up. Giles and Jon gelled well together and were cruising at 4 up there was a spirited fight back but they secured the win at the sixteenth 3&2. Tom and Andrew having lost their last three foursome outings again looked out of sorts and were always behind in the game and as much as they tried could not get back into contention finally going down 4&2. This left Tony and Harry who found themselves down early on but a spirited fight back saw them go 1 up by the thirteenth they then lost fifteen and sixteen to go one down and were in the trap off the tee on seventeen, but possibly one of the great bunker shots seen from harry from the trap to around 6 foot from the pin set the hearts a flutter could they do this but Somerset pair got to the green and young Ashley sunk the putt for 4 and Tony missed ours so game over 2&1 and Iain the Captain would be collecting that item at the prize ceremony.
Final League positions and all match scores.
Clifford Burden Trophy Results.
There were many positives throughout the week from all and the selection to the SW Team of Corey Coshan (3rd Reserve) was good to hear, we send our congratulations.
---
Captains summary:
Trevose is a special venue for any event so the SW Week was eagerly anticipated to be an absolute cracker, and it was!
The Dorset players renowned for team spirit kept each other going when the results did not quite go our way. After a great win on day one versus Wilts we found ourselves just on the wrong end of the winning line in the other matches. The main reason being the loss of 3 senior players meant everyone was playing higher up the order.
Many positives came from the week... Corey Coshan gaining SW selection (3rd reserve), he is now maturing and showing that his talent could be valued for many years to come. Harry Shaw beating England junior international Chris Lloyd amongst other wins. Jon Welch now delivering on his potential with 6 points. Giles Legg, Vice Captain leading by example with 6.5 points.
The team stayed strong throughout the week and was realistic on what it could achieve. We have started to see younger talent coming through which will be the bedrock of future teams.
A classic example of the depth of talent is that the other counties each had 3 players going to the British Amateur we had none. Dorset is aware of its limitations on volume of talent and will maximise and nurture what it has to ensure better results lie ahead.
Thank you to everyone who supported the team throughout the week.
Iain Donnelly Captain