South West Seniors Championship
SOUTH WESTERN COUNTIES GOLF ASSOCIATION
SENIORS CHAMPIONSHIP
LYME REGIS GC 22 – 23 JULY 2009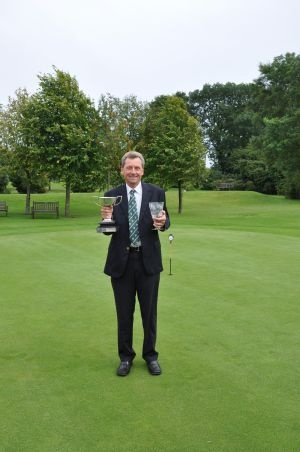 Congratulations to Brian Medlam Broadstone GC for winning the SWCGA Seniors Brian MedlamChampionship, on a wet, misty and very windy two days at Lyme Regis Golf Club. Sadly the first day had to be abandoned after some very hard work from staff and members at the club to get the greens playable the cloud then decided to descend on the course and stayed for the rest of the afternoon making play impossible. So it was back the following morning for an eighteen hole championship and EGU Qualifier. Brian shot a fantastic 1 under par 70 to blow the field away and take the championship from his club team mate Chris Dennis who had an excellent 73 to secure second place in very windy conditions.
Well Done.
The Dorset team will be going to this year's EGU Seniors County finals at Tandridge Surrey. Every player in the Dorset side broke 80 the only team to do so and this ensured the team won through with a very good 374 total some 9 shots clear of there nearest rivals Gloucestershire who had 383. The sound performance from all ensured the team picked up the coveted prize and Dorset will of course do there utmost in representing the SW Counties at the National final.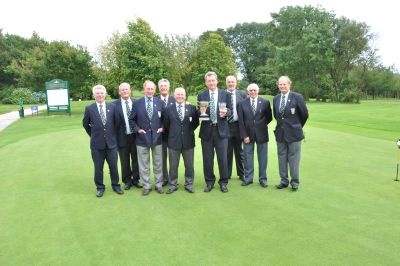 We must thank Lyme Regis for playing their part in this win for Dorset by hosting the event and allowing the team time to get familiar with the course during the past several weeks, also we must not forget the inspirational team talk by the Captain Anthony Eden.
Captains Report:
Although we were supposed to play eighteen holes each day Lyme Regis bared its fangs on the Tuesday. Heavy rain, followed by fog and then more rain meant play was impossible.
Wednesday was much better although overcast and breezy. The course had dried out overnight and the green staff had done a very good job. First out for Dorset was Brian Medlam who grew up playing these conditions in Edinburgh and he set the example with a great one under par round of 70. The rest of the team followed suit and with five scores to count from seven our worst score was 79, which no other team could match. Thus with a total of 374 we were nine shots clear of the field.
The Dorset Senior Team will now go for the first time ever to the National Finals at Tandridge in Kent early in October. The hard work and extra practise rounds that the Lyme Regis Club were kind enough to allow us certainly paid off.
To make our day complete Brian Medlam won the Individual Championship with his 70 and Chris Dennis, also of Dorset, was second with 73.
Other scores: David Lock 76, Graham Taylor 77, Rob Clapp 78,
Bob Dilkes 78, David Backhouse 79.
All in all a rather satisfactory day.
Anthony Eden . Seniors' Captain.