Results - 2009 - South West Championship
6th – 12th June 2009 at Broadstone Golf Club
The 2009 South West Counties Championship (SW Week) is being held in Dorset at Broadstone GC and got under way today with a practice round for all six counties. The Captain Iain Donnelly has selected the following squad to represent Dorset over the next six days:
David Cook, David Norton, Dan Smith, Parkstone, Luke Joy, Broadstone, Kevin Garwood, Tom Leech, Andrew Windsor, Matt Hector, Giles Legg, Ferndown, Jon Welch, Weymouth, Matt Walker, Came Down and Ben Churchill, Dudsbury.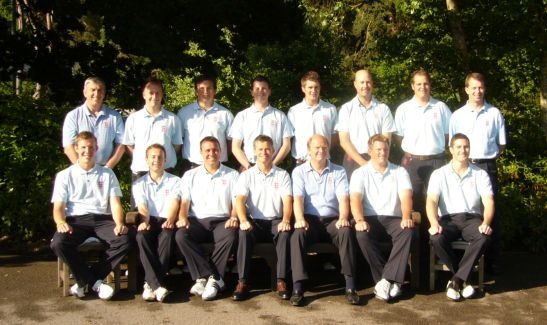 The format of the week is each county plays each other Singles am and Foursomes pm so the order of play is below with the SW Individual Strokeplay Championship and EGU County Qualifier being played over 36 holes of Stroke Play on Tuesday. I will post the results of each of our matches at the close of play each day to keep you up to date.
---
SUNDAY 7th JUNE
Wiltshire v Dorset
Result: Wiltshire 5.75 Dorset 8.25
The first match of the 2009 SW Week saw us up against last years Match Play Champions Wiltshire and the morning singles went against us losing 5 - 3 with a few games perhaps given rather than lost. The highlight of the singles was to see Matt Hector who was 4 down to Ali James Wiltshire's Captain after the fifth rally to pull off a resounding victory 4&2.
With the Captain happy with his pairing for the foursomes it was pleasing to see we did what they did to us at RND last year and took 3 of the matches to gain the overall win and get off to a great start. Congratulations to all the players on digging deep after the disappointing morning and producing a resounding victory for the Captain. Giles and Dave Norton lead the way and after being two down fought back to win 3&2. The out of sorts pair in the morning of Luke Joy and Dan Smith found form to win 2&1 along with the ever steady David Cook and Kevin Garwood, our anchor pair of Tom and Andrew secured a good halve.
---
MONDAY 8th JUNE
Cornwall v Dorset
Result: Cornwall 7 Dorset 7
The match got under way again early with Matt Hector leading the way it was a tough battle and even though Matt birdied the last two holes his partner did the same to stay 1 up and win the match. Kevin Garwood was in excellent form, striking the ball well and was never in any trouble seeing off his opponent 5&4. Dave Norton lost as did the out of sorts Dan Smith, the ever impressive David Cook won along with Giles Legg who took his first singles match by 3&1. Luke had memories of yesterday but this time managed to hole out at eighteen to hang on for a halve along with Tom Leech who had tree trouble on the last, so the morning spoils were shared with each team gaining 4 points.
The Captain stuck with yesterday's foursome pairs and was not disappointed with the first pairing of Legg & Norton who secured an impressive win 5&4 and the first point the last pair out were on the wrong end of the score so it was once more all square. Cook and Garwood secured a halve and it was all down to the last match of Joy and Smith who arrived at the eighteenth all square, Luke and Dan got down in four leaving the Cornwall pair with a four foot putt to halve the game and the match, this putt was then conceded by the Dorset Captain to round off a very tight and well contested match with the honours even.
---
TUESDAY 09th JUNE
SW COUNTIES STROKE PLAY CHAMPIONSHIP
Overall a good stroke play for some of our players, Kevin Garwood led the way coming in on 137 (3 under par) Giles was next with a level par 140 followed by David Cook on two over 142. The team did not fair to well in the EGU County Qualifier coming home in sixth place once more.
---
WEDNESDAY 10th JUNE
Devon v Dorset
Result: Devon 6.25 Dorset 7.75
With the rain pouring we were glad for the later start today and as the singles got under way the sun came out. Leading the way was Matt Hector who played some splendid golf early on but then found himself dormy 3 down, Matt rallied with some splendid golf and birdied the last 3 holes and secure a half point. Matt Walker was out second and was never really in trouble walking off the tenth 4 up he was then hit by some Birdies and by 16 it was all square a great second into the seventeenth made for an easy birdie to relieve some of the pressure and an easy halve on the last secured the first full point. Ben Churchill made easy work of his opponent securing a 5&4 win. Giles was in the main always behind but rallied to pull it back to all square but was then finally beaten 2&1. Kevin Garwood secured another point 3&2. John Welch was so close to securing his first SW Win but a tragic 3 putt on the last meant only a half point was gained. Andrew Windsor was pegged back from 3 up to 1 down on seventeen and saw his birdie putt on the last just stay out thus losing 1 down to last years SW Champion Jon White. Finally Tom was hit by in form Damion Gee and lost 5&4 so the honours were shared in the morning singles 4 all.
The young guns of Joy and Smith led the way in the Foursomes and there was much to admire about the play sadly the guns were taken down the last and a great birdie from the Devon pair saw us lose the first match 1 down. Ben Churchill and Matt Walker both entering the arena today after great wins in the morning continued with the good form and had a convincing win 5&4. Giles who has been in tremendous form lost his partner from the first two matches but David was replaced by the superb ball striking in Kevin Garwood this pair went all the way to eighteen but secured a good 2 hole win, this just left us needing a halve from the final pairing of Tom Leech and Andrew Windsor they were 1 up with 3 to play when Tom put his drive under the tree on the left of sixteen Andrew hit a good shot out Tom put it to 3 foot and a good halve was secured, Seventeen saw both pairs on the green and when Devon missed their putt Andrew had a putt to win the match his miss meant that we were certain of the halve to give us an overall victory by 7.75 – 6.25 and with Gloucestershire being held by Wiltshire gives us more to play for over the last two days.
---
THURSDAY 11th JUNE
Somerset v Dorset
Result: Somerset 8.25 Dorset 5.75
After the heavy defeat of yesterday Somerset came out guns blazing and Matt Hector found it tough going today and was always down from the start finally losing 5&4. Second out Matt Walker was three under after the fifth and was down he then went on to gift his opponent the sixth and seventh and the twelfth to go five down. He stood on the fifteenth dormy four down and knew exactly was he had to do to get a halve which is exactly what happened winning the next three and then putting in a stunning second to eighteen for birdie and a halve. The tank was out of sorts today and lost 3&2, sadly Dan Smith continued his run of poor form in the singles losing 3&1. Luke with the President on his bag found a 5&4 win. Kevin Garwood lost on the last. Andrew secured halve a point on the last from within the trees even with a five so that just left Tom he came down the last one down and both players found the green in two the Somerset boy missed his birdie putt and sadly for Tom his was just one turn from going in which left him losing by 1.
So to the foursomes and an up hill task to over come the Somerset 6 – 2 lead. The first pairing of Matt Walker and the Tank hit an in form pair from Somerset and lost 6&5 so that was that and pride was now left to play for in the remaining matches. Giles kept up his impressive run of form with the ever impressive Garwood winning 2&1. Luke and Dan had a see saw match winning one then losing one and managed to come down the last one up to be hit with an excellent birdie from their opponents so it ended all square and with Tom and Andrew securing a 2&1 victory on seventeen some respectability was put back into the score line. That brought to an end our run of 5 consecutive SW Matches undefeated so lets hope we start the run once again tomorrow.
So as we go into Friday it is all to play for Dorset are level with Gloucestershire who suffered a defeat at the hands of Devon today. So who ever wins in the Dorset Gloucestershire match will be crowned 2009 Match Play Champions lets hope the boys do the business. Your support will be greatly appreciated tomorrow to bring home the shield that was last won by Dorset in 1972.
---
FRIDAY 12th JUNE
Gloucestershire v Dorset
Result: Gloucestershire 9.75 Dorset 4.25
The singles got under way and leading out was Kevin Garwood who soon established a 2 hole lead. His opponent got it back to all square by the seventh and then turned the screw during the later part to take the match 3&2. Matt Walker was playing "Santa" giving his opponent holes and even with a good birdie on thirteen could not stop the inevitable losing by 5&4 Giles lost 2&1 and things were starting to look bleak the Tank rallied beating "Woody" 2&1 but sadly for John there was to be no happy end to his SW week going down 5&4 The Joy Boy again with the President on his back won 3&2 which is the same margin Tom lost by. Matt finished his SW week on a sad note losing 7&5 so Gloucestershire take a 6 2 lead going into the foursomes but with a bit of luck we can turn this around to take the title.
The captain changed the order and Tom and Andrew went out first and played some stunning golf over the front nine taking a 5 hole lead The opponents hit back and by thirteen there was only tow in it Tom and Andrew saw them off bring up the first point with a 3&2 win. I wish to congratulate both Tom and Andrew and draw to the attention of the squad that at thirteen the next pair were at least one and a half holes behind!!!!! Luke and Dan followed behind and missed a chance to go three up at thirteen but still were two up with two to play and the Gloucester players then went on to win the remaining two holes for a halve. Matt and Ben struggled again and whilst fighting hard finally ran out losing 3&2 thus the Match Play title was now Gloucestershire's. Giles and Kevin also ran into formidable opponents and lost 5&3. Oh well we were in contention on the last day and the team fought hard, spirits were high and we now move on to Kent and the next SE League match at Ashford on Sunday 21 Jun 09.
---
Captains summary
The Dorset County players arrived for the SW Champs at Broadstone full of hope following a good finish at the SW Champs at RND last year. Also a little bit of apprehension at being the "home" team helped to raise the hopes and expectation levels!
Our players did not disappoint with 2 wins and a half in the first 3 matchplay rounds, truly superb. This coupled with the 2 wins at RND gave the us a record 5 matches on the spin unbeaten, this leaving St Enodoc '07 with no wins a very distant memory.
With justified belief we focused on the last 2 days and the opportunity to win the SW Matchplay Championships for the first time since 1972. Throughout the matchplay week a big focus was put on the foursomes, we finished the week with a 12 - 8 total in our favour. Unfortunately losing both singles 6 - 2 in our last 2 matches put paid to our hopes of winning the shield, however, playing Gloucestershire in a winner takes all match showed how far the team has come in 2 years.
The strokeplay champs, once again, showed the depth of our challenge to compete and qualify for the English Finals. Finishing 30 shots behind the winners Wiltshire is simply not good enough. A full review will highlight the need for very specific, long term, junior golf investment to be put in place for us to compete effectively against counties such as Wiltshire with 4 England Internationals in their 6 man team!
I would like to thank all of the players for their commitment to practise and to sacrifice their individual golf to play for Dorset. Their resonse to my and Coach Martyn Thompson's various demands was first class both on and off the course throughout the SW Week.
Also, thank you to Martyn in supporting myself and coaching the players through a very long week. And to the Executive committee and additional supporters for giving the players every encouragement to succeed.
Look forward to seeing you at Trevose next year.
End
Thanks
Iain