Results - 2009 - Inter-Club Mixed Foursomes
Dorset Inter-Club Mixed Foursomes Lyme Regis GC 13 September 2009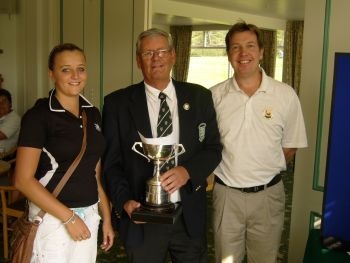 Having had a week of warm weather the sun held for this years Inter-Club Mixed Foursomes at Lyme Regis. The course was presented to the club players in excellent condition and with the sun shining a good day's golf lay ahead.
After a bit of badgering this was the best entry for this event for several years and we hope that will continue, the scratch pairings got us under way and local pair Scott Love & Jane Southcombe came in with a 77 holding the clubhouse lead and as the cards came inCalvin & Danielle it was clear players were finding scoring difficult, towards the end came the Weymouth pair Calvin Drage and Danielle Lown hoping to defend the Championship after last years clean sweep, they had a very good round coming in with a 74 which was good enough to retain the Scratch Cup for Weymouth. Will Tindle and Sue Edwards secured third place with a 78.
So the trophy goes back to Weymouth and the challenge has been thrown down to see who can stop them holding it for a third year?
Scratch Results:
Winners: Calvin Drage & Danielle Lown Weymouth 74
Runners Up: Scott Love & Jane Southcombe Lyme Regis 77
Third Place: Will Tindle & Sue Edwards Ashley Wood 78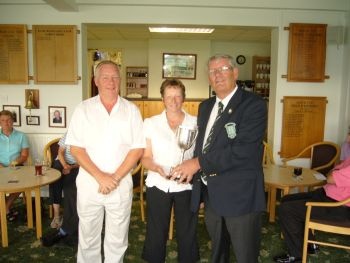 The Handicap section was very well supported with some 21 pairs taking part, there was some vast differences in the scoring but overall everyone enjoyed themselves. Bridport pair Matthew and Jane Rees led the way on 73.5 until Mike & Linda Levens from Knighton Heath came in with a 67.5 which was going to be difficult to beat. Peter Lush and Gaye Thompson from Came Down along with Gary & Pauline Polley Dudsbury had a 72 with Peter and Gaye taking second place on count back. The Weymouth pair tried hard to retain the trophy but it was not to be so the title went to the Knighton Heath pair Mike and Linda.
Handicap Results:
Winners: Mike & Linda Levens Knighton Heath 67.5
Runners Up: Peter Lush & Gaye Thompson Came Down 72
Third Place: Gary & Pauline Polley Dudsbury, 72
Our sincere thanks to Lyme Regis and its members for hosting the event and to David Lock for standing in both for Club and the County President to present the prizes.
Next year we will be at Parkstone GC on Sunday 15 August 2010 look forward to there being an even larger field.
Scratch Runners up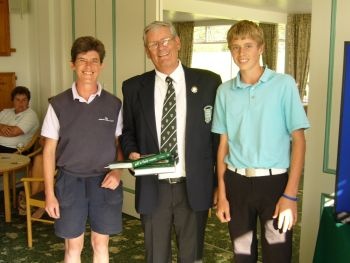 Handicap Runners Up