Results - 2009 - Henderson Trophy
Henderson Match Play Tuesday 14 Apr 09
Round One: On a very overcast and cold morning the 8 matches in the first round got under way, Alex Kerr and Tom Ellmore both from Highcliffe got us under way and Alex was comfortable for most of the match and ran out a 5&4 winner. Ferndown pair Rob Cunningham and Sonny Wilkinson were out second and this match swung both ways in the early stages but Rob's experience came through at the end running out a 3&2 win. Harry Shaw was up against in form Jake Broughton who took a 3 hole lead but was then hit with a barrage of birdies from Harry who went on to win 3&2. Simon Percy took on Scott Heap a clash of giants! This went to the wire with Simon winning 1 up leaving a very frustrated Scott rueing a few missed putts. Harry Mitchell meet in form Tom Robson losing 2&1. Broadstone duo Oliver Courtney and James Chapman a late entry to the event met, James played some splendid golf to come out on top 5&3. James Higgins was far too strong for a young Billy-Joe. Local lad Luke Hirst met Robert Condliffe Bridport, Luke sadly was not firing on all cylinders in the early stages and soon found him self 6 down, he did rally and had a putt on the eighteenth to take it into extra holes but it just slipped wide and Rob went through to the next round.
Round 2: Got under way with the sun starting to peak through and the golf was again of a high standard Alex met Rob and this went all the way with little to choose between the two Alex came out on top as Robs putt to keep the match live on eighteen slipped by the left edge of the hole. Harry Shaw continued his hot streak from the morning and quickly dispensed of Simon Percy who was playing good golf himself but "Birdie Shaw" was just to hot winning 6 and 5. The last two matches went all the way Tom just pipping James Chapman on eighteen 1 Up James perhaps thinking of the putts that got away! James Higgins came across a determined Robert Condliffe and as hard as he tried Rob stuck with him sinking a good put on seventeen to keep his lead and go up the last 1 Up, sadly for James he found the sand from the tee leaving Robert to take the spoils 2 Up.
Semi Final Line Up Wednesday 15 April 2009
Alex Kerr Highcliffe v Harry Shaw Canford Magna
Tom Robson Weymouth v Robert Condliffe Bridport
Wednesday saw the semi finals get under way with Alec and Harry exchanging birdies on the first for a half. Harry then won the third, fourth with a great Birdie and the fifth to take control of the match. Six and the seventh were halved before Alex won the eighth after Harry pulled his tee shot. They reached the turn with Alex 2 down but he then won the tenth and fifteenth to square the match, this was how they stayed and extra holes were needed. The first was halved with both missing birdie opportunities then Alex stuck his tee shot on the second some twelve feet from the flag leaving an uphill putt and Harry put his past the flag by some seven feet. Alex holed his putt and sadly for Harry his just slipped past the edge. The second semi was a swap shop for the first eight holes with Tom winning the first and then Rob the second and so forth. They reached the turn with Tom one up and he then added the tenth and eleventh to make it three. Rob hit back winning the twelfth but then gave Tom the thirteenth. Rob won the fifteenth to pull it back to two down with three to play and from then Tom found the Water on Sixteen and Seventeen so they headed up the last all square. Both hit good drives and seconds on to the green some 18 feet past the hole, Tom was first to putt and whilst it was dead it slipped past the left side Rob then stepped up and from the moment he it the putt it looked in what a time to get a birdie to win 1 up.
Final Alex Kerr Highcliffe v Rob Condliffe Bridport (East v West)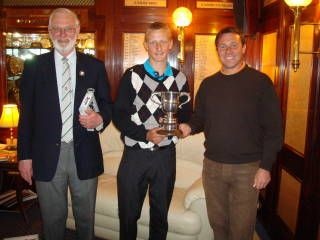 First blood went to Alex on the first as Robs putt lipped out but he soon made amends in winning the second. After two halved holes Alex won the fifth and sixth to go two up but a tremendous birdie on seven saw Rob pull one back. They halved the eighth and were side by side on the ninth with Alec to putt first his slipped by but he must have give Rob the line and he promptly sank his to bring the match square at the turn. The next three holes were halved before Rob found him self in the trees on thirteen and no where to go after a few hacks all Alex had to do was find the green this he did and he went one up. Fourteen saw two good long drives and Robs second was stunning putting it on the green, Alex either got the clubbing wrong or the adrenaline kicked in as his sailed on forty yards past the green to leave a difficult chip back, this he did but left a fifteen foot putt that did not go in so back to all square again, Rob found the green on fifteen with Alex missing to the right it was one up to Rob. [Rob Condliffe Henderson Winner] Sixteen saw both on the green for two and again Rob sank a good birdie putt to go two up. Alex was first to get his birdie on seventeen but Rob's putter was now hot and he followed him in for a birdie and the Henderson Title winning 2&1.
It has been a very good three days golf and our Congratulations to Rob Condliffe Bridport on becoming the 2009 Henderson Champion, there was consolation for Alex Kerr as Runner Up, on Monday he became the Stroke Play Champion. We also thank Dudsbury GC and it's staff for allowing the event to go on and looking after us so well.
Third and Fourth place play off was between Harry Shaw and Tom Robson, Harry Shaw came out on top taking third place with a 2&1 win.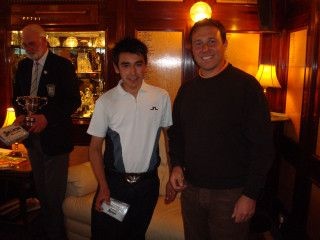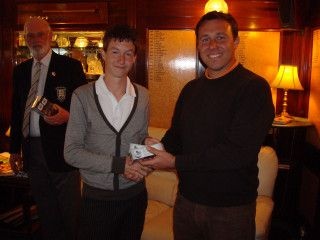 ---
Henderson Fourth Round: – 13 April 2009 - Dudsbury GC
Keith Durbin Salver (Strokeplay best 3 from 4)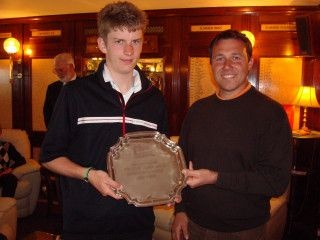 With all to play for and what could be classed as the best day of the year so far the fourth round of the Henderson got under way. Ferndown local Harry Mitchell hoping to take the salver was out first with Luke Hirst. Harry posted a four over 75 giving him a total of 227 and could now only hope the others did not post better, alas his lead was not held for long as Highcliffe player Alex Kerr came home in a very tidy 72 finishing on 226 pipping Harry by one shot and securing the Keith Durbin Salver for 2009. [Alex Kerr Stokeplay Champion & Match Play R/Up] Other scores to note were Ben Woodford (9) Highcliffe shot 74 net 65 along with Dan Oliver (8) Sherborne and Oliver Courtney (7) Broadstone who both came home with a net 67
Tomorrow sees the top 16 from the strokeplay go forward into the match play phase over two days for the Henderson Trophy. Spectators welcome.
---
Third Round 16 Feb 09 - Dudsbury GC
Played on one of the better days for golf this winter the scoring was difficult with young Jake Broughton Ferndown taking the honours with a 78 on count back from Rob Condliffe Bridport, local lad Luke Hirst and Alex Kerr from Highcliffe.
Overall positions after three rounds
---
Second Round 22 Dec 08- Dudsbury GC
On a typical December day with the cloud over head and no sun the second round of the Henderson got under way, with nearly a full field and a course playing long. The boys set about getting another score under their belt in the hope of qualifying for the final stages. Harry Mitchell being an early starter set the pace with a fine 74 with Luke Hirst a home player firing a 77 this was matched by first round joint winner Simon Percy but the round of the day belonged to the late entrant James Chapman from Broadstone who came home in a very impressive 73 shots, playing off 9 he can expect to see Christmas and the New Year in with a much reduced handicap, well done.
---
First Round 27 Oct 08- Dudsbury GC
On cool but bright and breezy morning and with 31 entrants the 2008/09 Henderson Trophy got under way at Dudsbury Golf Club. Early starter James Higgins 73 with Harry Shaw 74 setting the pace whilst the scoring was in the mid seventies for most late starter Simon Percy playing off nine came in with a 73 to equal the early leader. Needless to say Simon will not be off nine for any longer. For the full result sheet see below.