Results - 2009 - English County Seniors Final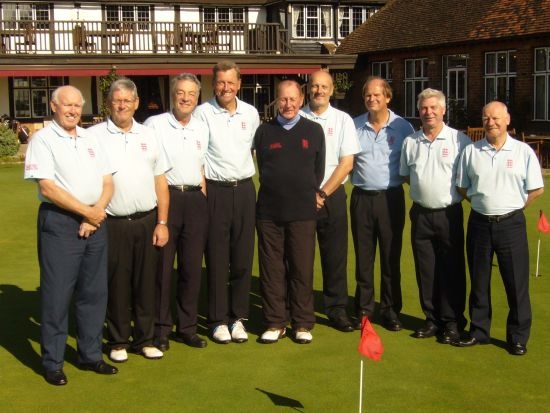 Dorset Seniors made history when they competed in the English County Seniors Finals at Tandridge for the first time this week and whilst not winning the team learnt a lot and will be trying very hard to get back next year as this is a fantastic three days of golf for those involved. Day one saw us pitched against Kent our SE League adversaries who have a wealth of experience and have been at each final since its inauguration. We soon learnt the importance of foursomes play as we failed to get out the blocks losing all three of the morning foursomes. Kent looked set for a comfortable victory but it didn't go to plan as at one stage we led in five of the six singles and were poised to not only turn the contest on its head but also to create a major shock, sadly a few loose shots and Kent recovered to a 3 all score line and victory. Chris Dennis led the way against Andrew Stracey and was quickly two up but a mid round collapse of form saw the Kent man take a 4&2 victory. Brian Medlam beat Chris Hurst by 2 holes with a birdie-three at the 18th, while John Smith overcame English Seniors Champion Chris Reynolds in similar style with a fine last hole birdie, John powers of recovery and his slick putting proved decisive along with his handsome caddie!! David Lock fought back from two down to secure a half on the last. Graham Taylor led for most of the match but was pegged back losing on the last and tail end Charlie our very own David Backhouse ground out a fine half.
So it was on to day two and Cheshire the current Champions waited and they also who again completed a clean sweep of the foursomes but to our credit the matches were much tighter. This day was dreadful as the rain just poured, in the single Brian Medlam was against Phil Jones, the Welsh seniors international, who took a few holes to impose himself on Brian and then birdies at the seventh and ninth saw Jones 3-up finally running out a 5&3 win. John was up the England Seniors cap Roy Smethurst, John kept him at bay and was 1 down at the turn and in the pouring rain the putter was a little cooler than the day before and went down 3&2. With no break in the downpour, Cheshire underlined their supremacy with George Payne completing his fourth victory with a 3&2 win over Chris Dennis, Bob Walker defeated David Lock 2&1 but his club team mate Rob Clapp held his own inflicting a 2&1 win over Steve Baker, inflicting the Cheshire man's first defeat. David lost 3&2 to Phil Slater and now the hardest task was to get the gear dry for the next days match against Staffordshire.
The battle for third place couldn't have been closer as Chris and Brian led out the foursomes eventually going down 2&1. Bob Dilkes and Graham Taylor will rue some missed putts early doors allowing there opponents to take control and losing 5&3 but John and Rob finally got our first foursomes point winning the last to gain a 2hole victory. So we again had to take the fight to the singles but Staffordshire's Ben Rhodes struck the first blow beating John 4&2, but with some dogged determination to make their mark Chris and Brian both won on the final green. That gave us some momentum and David played some excellent golf securing a good 5&4 victory over John Loader putting us in touch of overall success. Then Rob went down to Neil Copestick on the 18th green which meant everything hinged on the final encounter in which David generally held sway over Neil Portas, leading from the first. David came to the last one up but after a pulled tee shot missed the final green and played a superb bunker but the putt narrowly slipped past the side for a bogey five while left-hander Portas took two from just off for a winning par that not only squared their game but ensured the match finished level. Third place would be decided on games won but we couldn't be separated, both finishing with 8½. As 'D' comes before 'S' Dorset were placed third in the league table.
It was a great event played in tremendous spirit and the team I hope enjoyed the experience and they did Dorset proud in both their Sportsmanship and impressive turnout. Our sincere thanks to the SW Counties President John Rowe and his Wife for their support during the three days.
Captians report to follow.