Results - 2009 - Dorset Junior Knockout
Dorset Junior Knockout Finals – Canford Magna GC 26 August 2009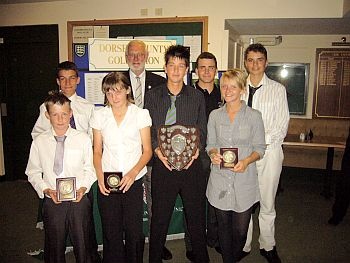 With Hurricane Bill on the way, the semi finals of this years knockout competition got under way with Yeovil playing Knighton Heath and Highcliffe 'A' pitched against Broadstone 'A' the first match was tightly contested and it looked like it could go to extra holes the first match went all the way with the Ladies County Champion Melissa McMahon giving 6 shots to Taylor Broadbent and the match all square at the eighteenth, Taylor put his first out of bounds but to his credit made a six net five and with Melissa missing the green and her chip pulling up short she had to hole the 10 foot putt for the win this slipped by and a halved game, and with Sianell white romping home in the all girl tie thus Knighton secured victory 3½ - 2½. The other semi saw Broadstone in control of the match from the ninth onwards with the Captain leading the way beating Alex 2&1 and with Alex Shenton and Richard turner securing good wins along with Matt Keel whose opponent was left wondering how a nineteen handicapper could play such shots secured the win and a Final place for the 2008 winners.
As the final got under way so Hurricane Bill arrived and the wind blew as the rain fell, great credit to all the players for putting up a good show of golf in such awful conditions. Knighton had all the shots in this match but has all matches went through the ninth it looked like Broadstone good again be the champions, Simon Percy again led in the Broadstone team with a resounding win 5&4 over Taylor Broadbent, James Hill fought incredibly hard to secure a one hole victory over David Steward who was one up after sixteen. Sianell White who after thirteen looked to be down and out suffering with a blistered foot and then putting her tee shot into the water on fourteen rallied well and walked off seventeen one up securing a two hole win on eighteen. Jamie Cure and Jack Baker secured big wins and ensured the trophy was going back to Knighton Heath with a 4 – 2 victory. Knighton Heath Jnr KO winners
Congratulations to all who made the finals and played some splendid match play golf. We also thank very much Canford Magna for hosting this event and providing a challenging course.
Runners Up - Broadstone