Results - 2009 - County Team
v Sussex - 30 August 2009 Ashley Wood GC
Result: Dorset 6 Sussex 6
Dorset entertained a very strong Sussex side still looking to win the SE league title at Ashley Wood Golf Club, the course was beautifully presented and playing very well with holding greens and some tricky but fair pin positions. The weather was not good and the morning saw the cloud roll in and the odd spot of drizzle and for those not playing it was quite cold.
The captain had to make some late team changes as some of our senior players were unavailable thus the inclusion of the Captain himself and local member Steve Sanger. With the Foursome pairs done the match got under way ................
Individual scores and full report
---
v Surrey - 05 July 2009 Came Down GC
Result: Dorset 6½ Surrey 5½
Dorset hosted a very youthful Surrey 1st team at Came Down on a sunny and windy day. The home fixture resulted in being a very deserved win for a determined Dorset team.
The highlight of the foursomes result being Walker/McMahon beating England Internationals Cooley/Rickett 4/3. Going into lunch at 2 all was the least Dorset could hope for and were keen to get back out in the afternoon................
Individual scores and full report
---
v Kent - 21 June 2009 Ashford GC
Result: Dorset 3 Kent 9
The Dorset First Team travelled to Kent following a successful South West Week to find Ashford Golf Club in good condition for the weekend's match. The timing of this fixture always presents an added challenge to the Dorset Team with a number of the players feeling jaded after the intensity of the South West Championships. This reflected itself in the 4-0 foresomes loss as this had been the key to Dorset's success recently.
Individual scores and full report
---
v Hampshire - 10 May 2009 Stoneham GC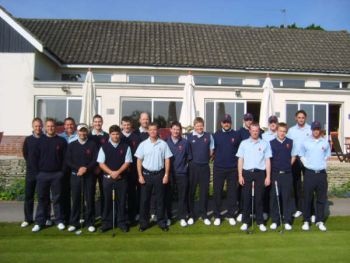 Result: Dorset 4½ Hampshire 7½
With the morning foursomes being shared it need a late ralley from Hampshire in the singles to take the match.
Full Captains report and individual match results
---
v The ARMY - 03 May 2009 - Dorset Golf & Country Club
Result: Dorset 7½ Army 7½
Match report: The County Match vs The Army proved to be a very useful exercise in giving players match play practice prior to the first league match of the season against Hampshire.
Full Captains report and individual results
---
v BB&O- 26 April 2009 - Frilford Heath GC
Result: Dorset 5½ BB&O 6½
Match report: On a fine and sunny day at Frilford Heath, a mixture of First team and Colts took on BB&O. The course was beautifully presented, but it was still a little early for the greens which were slightly bumpy. The morning foursomes went fairly well with a good 3&2 win from Kevin Garwood and Mat Walker and a half from Giles Legg and Mat Hector. Phil Steen and Lloyd Walton came up against a very hot pairing (including an ex European tour pro!) and lost 3&2. We thought that a half may be rescued from the last pairing of Andy Windsor and Daryl Wood as they came down the 18th hole 1 down, but their birdie attempt just missed.
BB&O win the foursomes 2.5-1.5.

We started the afternoon singles needing to win 5 out of 8 games, a tall order. This was made especially difficult when Phil Steen, up against their best player, was overcome 5&4 and Lloyd Walton soon followed with a 6&5 defeat. However Mat Hector, from seventh in the order, produced an excellent victory with a 7&6 win over a very disappointed local player. This seemed to rally the team and wins for Mat Walker (2&1) and Giles Legg (4&3) soon followed, levelling the match at 4.5-4.5. Unfortunately Kevin Garwood, despite playing some good golf, was beaten on the 17th hole. Andy Windsor was next, and with a dogged performance he closed his game out on the last green.
The match was now tied at 5.5-5.5. 1 down with 4 to play, our anchor man Daryl Wood rolled in a birdie putt on the 15th green and followed this with a miraculous birdie on the 16th to go 1 up. However a pulled tee shot on 17 meant he was unable to reach the green in two shots and he lost the hole. With the result of the whole match on his game, Daryl's last tee shot went right, clipped a tree and nestled in long grass. He had no clear shot to the green, and despite a valiant attempt he was unable to match the par of his opponent.

Results:
Foursomes:
Phil Steen & Lloyd Walton Lost 3&2
Mat Walker & Kevin Garwood Won 3&2
Giles Legg & Mat Hector Halved
Andy Windsor & Daryl Wood Lost 1 Down
Singles:
Phil Steen Lost 5&4
Lloyd Walton Lost 6&5
Kevin Garwood Lost 2&1
Mat Walker Won 2&1
Giles Legg Won 4&3
Andy Windsor Won 1 Up
Mat Hector Won 7&6
Daryl Wood Lost 1 Down
---
Dorset Squad Training Weekend
Dorset squad players under the guidance of the Captain (elect) Iain Donnelly had a successful training weekend in Mosa Spain.