Results - 2009 - County Boys Championship
Dorset County Boys Championship - 27 - 28 May 2009 - Dudsbury GC
2009 Boys Champion - Corey Coshan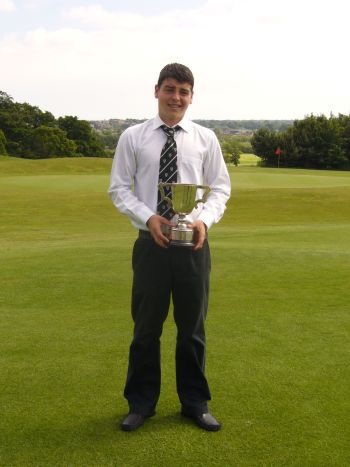 Well after the glorious weekend at Weymouth for the County Championship we moved to Dudsbury for the County Boys' Championship and what a day it proved to be as the wind and rain just lashed down. With a some what poor turnout for this County Championship of only 38 we got under way with the rain and wind unrelenting. It was clear the weather was getting the better of some players as they walked off at different intervals as they got near to the club house. That said the early starter Harry Shaw Canford Magna came home in 76 followed by defending champion Corey Coshan Ferndown on 78. Harry Mitchell Ferndown followed in with 79.
The committee took the decision to complete this first round and thanks to the kind offer from the club it was back the next day to complete the Championship. So with a reshuffled start sheet we got under way and as they say what a difference a day makes a light breeze sunshine and warm temperatures led to some good scoring non better than Simon Percy who shot a level par 71 and can look forward to a substantial handicap cut. Ryan Warrener top off a good championship with another fine round of 75 along with local lad Luke Hirst and Yeovil youngster Jackson Bowes. Ferndown pair Harry Mitchell and Corey Coshan both in contention for the crown came home with 75 and the overnight leader Harry Shaw Canford Magna had a little trouble on the ninth and could only manage a 77 to go with his 76 yesterday and a 153 total which meant losing out on count back to Corey Coshan who with 78 +75 153 winning with the better last eighteen total. This is only the second time the championship has been defended successfully.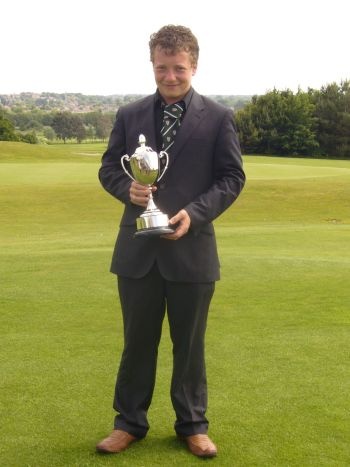 This year was the Championships inaugural Under 16 Championship,Harry Mitchell and it is with great thanks from the County to the Mabb family and their kind donation of a superb trophy for the U16 Dorset Boys Champion in the name of the late Kingsley Whiffen who sadly passed away some eighteen months ago, it was well contested with young Ryan Warrener Jordan Howlett both in contention but was finally secured by Harry Mitchell from Ferndown with 79 – 75 154 total and his will be the first of many names on the impressive cup.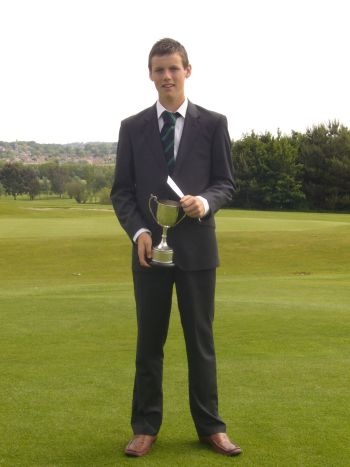 Ryan Warrener Broadstone with a first round 81 and being off 8 net 73 became the Handicap Champion and took the Weymouth Challenge Cup just pipping his club team mate Jordan Howlett who matched the 81 but is one shot better with his handicap.
The team event was won by Ferndown A, consisting of Corey Coshan (78) Harry Mitchell (79) and Rob Cunningham (88) and a team total of 157 and Ferndown GC will now go forward to represent Dorset in the EGU Junior Champion Club finals at Burghley Park GC Stamford Lincolnshire on 8 / 9 Aug 09.
Lastly on behalf of the Dorset Golf Union a thank you to the Club Owners David and Beatie, members and staff for allowing us the use the course for the 2009 County Boys' Championship. Thank you.
Harry Shaw Runner Up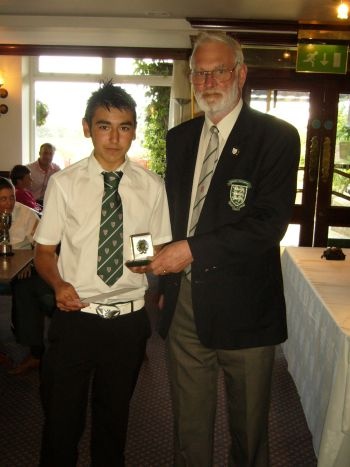 The Three Champions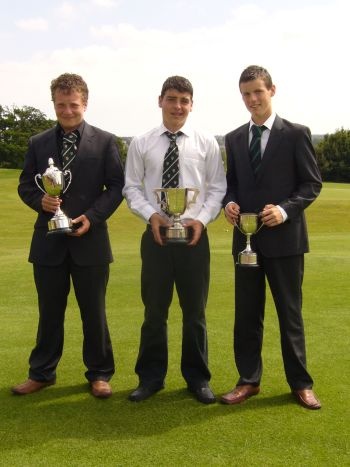 Rob Mabb with the Under 16 Champion