Results - 2008 - Wimborne Cup
Parkstone Golf Club
Wimborne Cup 28th June 2008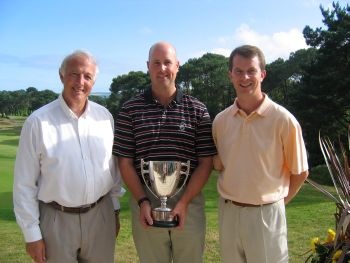 36 Hole Scratch Open David Cook, once again, proved the theory "class is permanent" by winning the Wimborne Cup at Parkstone for the fifth time in 11 years. His 4 under par total of 140 gave him a comfortable four shot victory over Matthew Walker of Came Down.David Cook
The course, this year, was superbly presented, but as scoring showed, provided a great challenge for the 60 strong field with testing rough and a swirling breeze throughout the day. Cook, this year's South West Captain, began the day like a man on a mission. A steady par at the first was followed by a birdie at the second and an eagle at the third, putting him 3 under after as many holes. It looked ominous for the rest of the field, already, and when another birdie came at the 11th he looked unlikely to be caught. But a hiccup in the fairway bunker at the 13th cost him two shots and a bogey at the 14th another, undoing all his early good work. However, he had not won four previous Wimborne Cups without showing some great determination over the years and again dug deep, producing a birdie, birdie finish for a morning 69 and a one shot lead to take into the afternoon. The 2005 champion Lee Booth (Parkstone) carded a very steady 70 and was not going to allow Cook to have it all his own way. Nick Scrutton (Castle Royal) and eight times County Champion Tony Lawrence (Sherborne) were a shot further back on 71, with newly crowned Club and County Champion Tim Adams (Parkstone) firing a disappointing 73, knowing only a very low second round would allow him to achieve a glorious treble this year.
The afternoon scoring would prove very similar as the weather stayed very consistent, but nobody mounted a realistic challenge to threaten Cook's grasp on the trophy. Lee Booth slipped back to level par after nine holes of his second round and both Scrutton and Lawrence also failed to improve their position early on in the afternoon. This left Cook, although also over par after his front nine, still in the lead and undoubtedly still the favourite. His class then shone through as he started his final nine holes, firing four birdies in six holes to extend his lead. The race was now on for the runners up spot.
Tim Adams failed to show the form that had recently produced two great wins, Lee Booth was unable to improve on the back nine and slumped to a 78. Both Scrutton and Lawrence also fell out of contention as the afternoon progressed. Those who were able to improve on their morning form were Matthew Walker who added a very commendable 70 to his earlier 74 for a level par 144 and the clubhouse lead that only David Cook would overtake. Andy Windsor (Ferndown) fought back brilliantly to match Cook's best of the day 69, shooting him up to 3rd place on 145.
David Cook eventually finish with another sub par round of 71 to finish four under par and claim the his fifth title in style, showing that he is still a force to be reckoned with, especially on home soil. The tournament had proved a huge success, yet again, with 60 competitors from 29 clubs across the South and the course, it was said, had never looked better in the 97 years of the competition's history.