Results - 2008 - Under 18 / Over 18 Championship
Over 18 / Under 18 Foursomes Halstock Golf Club 24 July 2008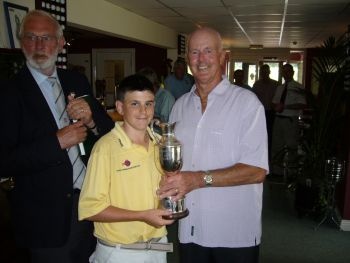 On a very warm sunny day at a wonderfully presented Halstock golf course the County Adult / Junior foursomes got under way. This is the first County event to be held at the course and our first thanks must go to the owner and members who made everyone very welcome and pulled out all the stops to make this event a success on which they are to be congratulated.
The event saw a very good turnout from clubs with some 42 pairs taking part for those who felt it was beneath them to play a 4000+ course well all we can say is you missed an excellent day's golf. James Fairhall
Players did not find the scoring overly easy except perhaps early club house leaders Andy & Tom Robson from Weymouth who had a very good 37 points. They held onto the lead for some time until the Dudsbury pair of Nigel Hector and young James Fairhall arrived in with an excellent 40 points thus becoming the championship winners and receiving the Bunny Cotton Memorial Trophy. In third place was the Broadstone pair of James Hector and David Steward on 36 points.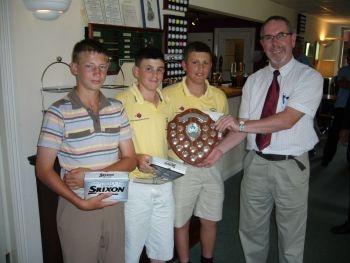 The 40 points also helped Dudsbury B clinch the team shield along with Darren & Callum Bushby 30 points and Kevin & Luke Savill 28 points for a total of 70 just pipping the Broadstone team by one point (Broadstone were: Simon & Ryan Warriner (30), Bill Kent & BJ Bugden (33) and James Hector & David Steward (36)).