Results - 2008 - South England Boys Open Championship
Yeovil and Sherborne 04 & 05 August 2008
On the morning of the first day with the sun shining the 2008 SEBO championship got under way at Yeovil with defending champion Levi Johnson just one of many fine golfers in this championship sadly he got off to a bad start with a 77. Best rounds in the morning went to two under 15 year olds Ross Dick 68 and Jordan Mann 69.
The story was different in the afternoon as the young Wiltshire County Champion Ben Stow moved into gear with a superb 66 closely followed by last years champion Levi with a 69. Dorset's young star Cory Coshan was in steady form with a 72 and 70 still leaving him in contention.
So we then moved to Sherborne and whilst we all prayed the weather forecasters would be wrong, sadly this time they were spot on and the heavens opened again and again during the morning play started on time but the weather did cause us to bring in the players off for one hour while the greens dried out. It was due to the Stirling efforts of Chris and his team that play once more got under way and we managed to get the third round finished, Ben and Levi both shot 72 with young Colin Walsh joining them on 72 and setting himself up for a shot at the under 15 title.
The cut was made and the top 30 players went out in the afternoon to do battle in miserable conditions and we just hoped that the rain would keep off and the light would stay with us so that the 72 holes could be completed, gladly for all it did and the championship ran its full course. Ben Stow with a last round of 70 and being 5 under par for the 72 hole competition became the 2008 South England Boys Champion and winner of the famous Tony Jacklin Putter and joins a list of winners of this prestigious competition. Levi Johnson produced a fine challenge to retain his title and after the first round disaster did well to take second spot to a champion who was in fine form. The under 15 trophy was won by Sam Edwards who just pipped Ross Dickson on a 36 hole count back.
Prize Winners:
South England Boys Open Championship:
Champion: Ben Stow 281 Hamptworth GC
Runner up: Levi Johnson 291 Canterbury GC
Third: Ben Wheeler 292 Purley Downs GC
Under 15: Sam Edwards 295 Bigbury GC
Ben Stow SEBO Champion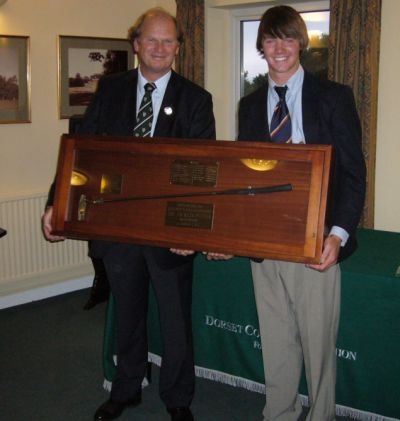 Levi Johnson Runner Up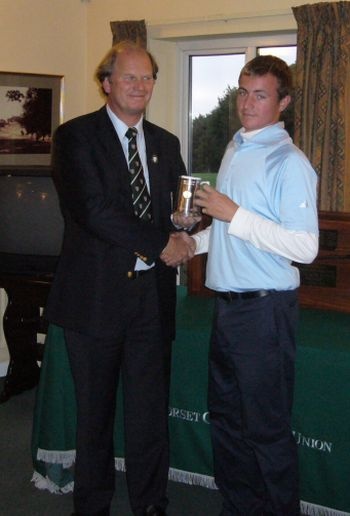 Ben wheeler Third Place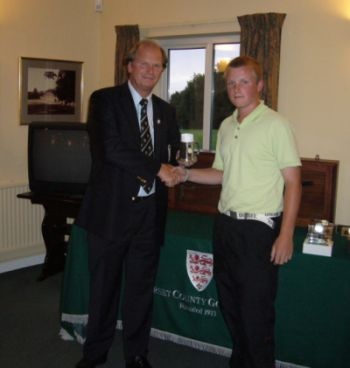 Sam Edwards U15 Winner