Results - 2008 - Seniors Championship
Seniors Championship - 19th June 2008 - Wareham GC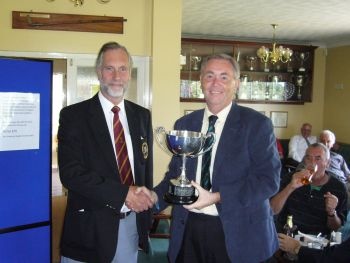 The Seniors Championship went to Wareham GC who during 2008 are celebrating their Centenary, they did the County proud by presenting a course in excellent condition with true greens and some tricky pin positions a very good test for all who took part, and whilst the sun did shine the wind blew making scoring some what difficult. Having got his hands on the trophy last year John Nash John Nash 2008 Seniors Championfrom Broadstone GC was not going to let go easily and with a scrambling round of 76 retained the Seniors Championship Title for 2008. He was pushed by Bob Dilkes, Pat Lynch, Bob Wootten and Graham Taylor all on 78 and after count back second spot eventually went to Graham Taylor Knighton Heath. The cup was presented by Mike Mead President of Wareham GC and we wish him and the club the very best during their Centenary Celebrations.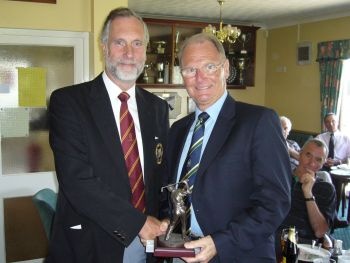 The Handicap winner and taking the 2008 Seniors Handicap Champion title was Dennis Martin from Parkstone GC who with a net 72 just managed to pip Bob Wootten from DG&CC on count back.
The Age Group prizes went to the following:
Over 70's:
Scratch: Mike Joslin Bridport GC
Handicap: Phil Holloway Ferndown GC
65 to 69:
Scratch: Doug Pratt Weymouth GC
Handicap: John Gough Weymouth GC
60 to 64:
Scratch: Pat Lynch Sherborne GC
Handicap: Alan Barlow Canford School GC
55- to 59:
Scratch: Bob Dilkes Knighton Heath GC
Handicap: Roger Wilson Wareham GC
Finally may I thank all the players for entering and ask all Seniors to give it a try next year. I find it astonishing that a County such as Dorset can not get 60 plus seniors into such a Championship. If only two from each club were to enter I would have 66!! I am sure each and every club has many good senior players who could grace such an occasion. Come on stop hiding and let's see some more at the Isle of Purbeck next year.