Results - 2008 - Inter-Club Mixed Foursomes
Played at Bulbury Woods GC on Sunday 17 August 2008.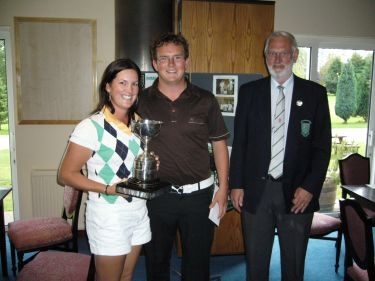 During one of the wettest Augusts on record the rain stayed away for this years Inter-Club Mixed Foursomes at Bulbury Woods GC. With a some what poor entry to this years Inter-Club event from the clubs around the county the event was again played in two sections of Scratch and Handicap. First out were the scratch pairings and in first was the ladies captain Pip Duncan and her partner James having played a considerable amount of golf! Bob and Maureen Dilkes became early clubhouse leaders with a very commendable 77John Welch & Fern Grimshaw followed in by John Welch and Fern Grimshaw from Weymouth with a fine 75 which was just enough to hold off the challenge from the Came Down pairing of Rowan Smith and Sue Cox with a 76.
So the trophy has finally been prised away from Broadstone and goes to Weymouth in the safe hands of John and Fern lets hope they can defend the title next year.
Inter-Club Mixed Foursomes Scratch Results:
Winners: John Welch & Fern Grimshaw Weymouth GC gross75
Runners Up: Rowan Smith & Sue Cox Came Down GC gross 76
Third Place: Bob & Maureen Dilkes Knighton Heath GC gross 77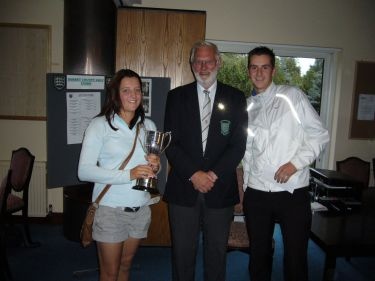 The Handicap section was slightly better supported with some 13 pairs taking part, all the players found the going tough on a dry but breezy day. The early club house leader's Luke Bartlett & Danielle Lownwere Luke Bartlett and Danielle Lown Weymouth GC with a gross 79 net 75 Danielle had been here last year and was pipped at the death for a prize but this year although close there score stood the test of time and they became the Handicap Champions making a great double for Weymouth GC. Bob Nichol and Barbara Sims from Parkstone came second and will rue the poor start they had to the competition coming in with a gross 85 net 77. The Highcliffe pair of Paul Gough and Mary London was just pipped into third place on count back.
Inter-Club Mixed Foursomes Handicap Results:
Winners: Luke Bartlett & Danielle Lown Weymouth GC net 75
Runners Up: Bob Nichol & Barbara Sims Parkstone GC net 77
Third Place: Paul Gough & Mary London Highcliffe GC net 77
The Weymouth pairings were submitted late an inspired selection by the Club President Doug Pratt who noticed no entry from the club It would be nice to see some more club's making the effort to support this Inter-Club event so lets have a great day next year at Lyme Regis.
Scratch Runners up: Rowan Smith & Sue Cox
Handicap Runners Up: Bob Nichol & Barbara Sims