Results - 2008 - Inter-Club Foursomes
Dorset Golf & Country Club 08 November 2008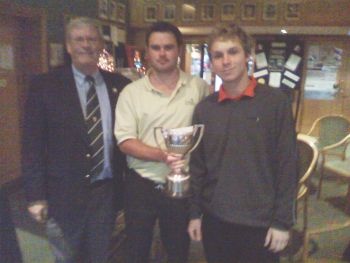 In this rain delayed event it again seemed we were going to struggle to get the event played as the heavens opened the night before leaving a very wet track at the Dorset Golf and Country Club. After some deliberation and the fact the sun came out was enough to get the event underway. All in all given the conditions the scoring for foursomes was very good. Inter-club Foursome WinnersThe local pair of Lloyd Walton and Neil Wright came home in 73 a fine score which eventually proved to be too good for the rest of the field and therefore gave them the Inter-Club Scratch Foursomes Title. The last pair home in this section Tim Harty and Justin Morris Bmth & Meyrick Park rued the bogey on seventeen leaving them with a 74 one behind the leaders and having to settle for second place.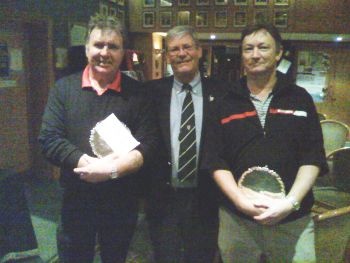 The handicap section found the scoring tough and the early leaders were in with a net 77 which seemed a popular score until Scott Smith and Duncan Allan came home in 75 this was followed in by another 75 from Steve Hardy and Adrain Bungay from Came Down who held second spot losing out on count back to Scott and Duncan finally as the light faded very quickly the last group in had the winning card and they were Mike Provan & David Inter-Club Foursomes H/cap WinnersEldridge Crane Valley who had a excellent gross 79 net 71 taking the Silver Salvers. It was a good day's golf on a great course spoilt by the torrential rain of late, I thank all those who took part and helped get the 2008 Inter-Club Foursomes Championship completed.
Only 15 out of 34 clubs took the time and effort to enter pairs in to this County Competition! Come on let's see more clubs next year at Yeovil on the 4 Oct 09.