Results - 2008 - Four Counties
Four Counties (Strokeplay) - 04 April 2008 - Saunton GC
Winner: Cory Coshan - Dorset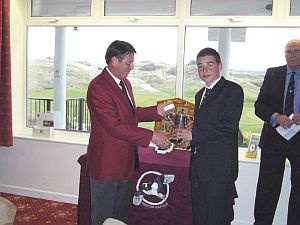 Report: On a cold and misty morning the Four Counties Strokeplay Competition Cory Coshan Four Counties Strokeplay Championgot under way on the par 71 East Course at Saunton GC. The scoring was difficult with the wind picking up mid morning, all the more credit to Corey Coshan who shot a level par 71 to pip Somerset's early starter and club house leader Ed Cook by one shot taking the individual strokeplay title thus bringing the cup back to Dorset for the fourth year running.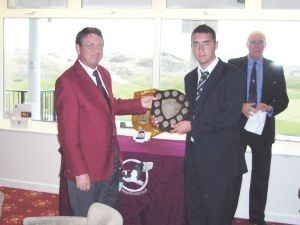 His team mates did not let the side down and the scores they produced secured the Team Strokeplay Shield by two points from the Somerset team:
Daryl McMahon 74
Lloyd Walton 84
Clinton Norris 80
Sam Parsons 78
Dan Hannaford 79
Rob Cunningham 85
Luke Gough 82
It was a different story in the Matchplay with the team losing all matches by the same score 4 -3 all matches were close and with a fair wind and a bit more luck they could ahave been turned around. We look forward to next year when home advantage may well help to take all three trophies.