Results - 2008 - Dorset Order of Merit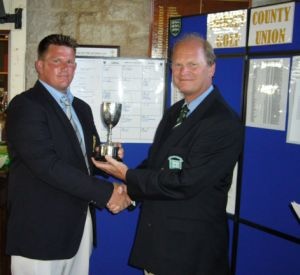 Ben Churchill Retains the Order of Merit for 2008
Even though work prevented him from competing in the County Stroke play the last event of the year his nearest rival Matt Walker failed to capitalise and overhaul the points Ben had amassed in the previous events.
Dorset Order Of Merit
The following County Events will make up this years list of events:
| | |
| --- | --- |
| Event | Location and Date |
| Dorset Scratch Open | Dudsbury GC 13 Apr 08 |
| Weymouth Jubilee Cup | Weymouth GC 18 May 08 |
| County Championship | The Ashley Wood GC 23 May 08 |
| Wimborne Cup | Parkstone GC 28 Jun 08 |
| County Stroke Play | Broadstone 10 Aug 08 |
With a limited number of events there will be no limit to the number of events taken into consideration for the overall winner it will be on total points attained.
Points will be awarded on a sliding scale from 10 points for first place down to 1 point for 10th place and ties. Each round within the individual event will attract points and the top 16 qualifiers for the matchplay stage in the County Championship will get 5 additional points.
To enter all you have to do is play in the events above, there is no limit to the events you have to play.