Results - 2008 - County Colts
Colts v Sussex - 24 August 2008 Came Down GC
Result: Dorset lost 1 - 11
Came Down presented itself extremely well having had a refreshing shower or two overnight. For this part of the world the wind was light and the course was playing reasonably easily. The home course advantage failed to materialise as, once again, we lost all four foursomes as we did last year at Copthorne GC. Only one match was close with Jon Putman and Rowan Smith, a new partnership, losing only one hole down. There were some highlights, notably Daryl Wood holing his pitch shot on the tricky 5th.
Results: Match sheet and the managers report
---
Colts v Hampshire - 20 July 2008 Blackmoor GC
Result: Dorset lost 2 - 10
Blackmoor was in superb condition with the greens freshly cut in the morning and rolled. Consequently they were playing fast but true. Just a shame the morning golf from the Dorset players was not so fresh and crisp as should have been.
Results: Match sheet and the managers report
---
Colts v Kent - 13 July 2008 Cherry Lodge GC
Result: Dorset lost 2½ - 9½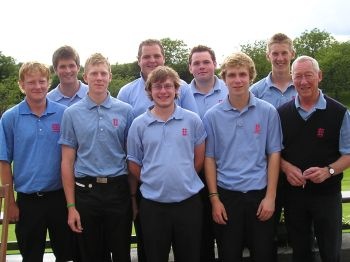 A light breeze and warmth marked the day in contrast to the week's previous weather. We got under way at 8.30am and achieved some very close matches. Although losing 3 : 1 two ended only 1 down. Matt Hector and Jon Putman won a very good match with Matt audaciously holing out with a long chip and run on the 18th.Colts 2008
The singles proved a different story. Dan Smith could not hold Liam Burns, a +2 player and Rowan met an in-form Lewis Sturdy. Jon Putman played a brilliant game, long drives and some excellent short game play to win his match 2 & 1. Mike Evans, the two Dans and Lloyd were all 4 down at some stage in their matches. Standing on the 12th, four down, Mike was one over par ! Each fought back hard to no avail, except for Dan Clark who should be congratulated for a stout half. We thought Matt would gain another half too after yet another long chip in on the 17th to go only 1 down. He had another chance on the 18th but missed his putt after Kevin O'Connell had chipped dead for his par. Some really excellent golf was played and the final score does not reflect the closeness of some of the games.
Results: Match sheet and the managers report
---
Colts v IOW - 02 June 2008 Freshwater GC
Result: Dorset lost 4½ - 7½
Match report: After some late changes to the team due to various problems the side with some up and coming youngsters missed out in a hard fought battle just being pipped by a strong IOW team.
Results: Match sheet and the managers report