Results - 2007 - South West Week - St Enodoc
ST ENODOC GC 9th to 15th JUNE 2007
Captain Chris Dennis Writes:
We arrived in Cornwall this year with high hopes and come away having played some good golf with a disappointing outcome. The results do not convey the effort and commitment that the team showed throughout the week which is a long and punishing schedule.
Our first match against the hosts Cornwall was a one sided affair, they had clearly practised on what for them was a local facility and there short game knowledge in particular putting on fast sloping links greens showed and they holed many more putts than us.
The team however responded well and concentrated on short game practice in the interim period before taking on the strongest matchplay side Gloucestershire. We got off to a flying start and led 61/2 to 11/2 after the morning singles. However we were unable to convert this form in the foursomes and some close matches went their way and we drew the game. Ben Churchill did have a hole in one on the difficult 5th hole which was the high light of the afternoon.
On Tuesday in the strokeplay event we were represented by Luke Joy, David Cook, Tony Lawrence, Ben Churchill, Matt Walker and James Wythe. In the morning Luke Joy had a creditable 68 but was unable to follow it up in the afternoon. Both David Cook and Tony Lawrence played good golf but were unable to convert a number of birdie chances. All three finished on 145. James Wythe our youngest team member battled well for 73 and 74 finishing on 147.
Full 36 hole individual result sheet
The following three matches were against Wiltshire who won the strokeplay event, Devon and finally Somerset and although the team battled right to the end in all matches we lost every match by just one point! We were the only team to take anything off of a strong Gloucestershire side and if we had been able to convert just one more ?half? or convert one of our many ?halves? to a win we would have finished first or second in the matchplay and that was how close we came to having a successful week and yet it was a hurdle we were unable to overcome.
Obviously as team captain I take full responsibility for the week's results and it is so frustrating to play such good golf, be so near to success but end up with the wooden spoon which I accepted as Captain of Dorset but not on behalf of the team who played and battled right to the end and deserved something out of the week. I would like to highlight some great individual performances. Luke Joy remained unbeaten in all his singles results and David Cook likewise only lost one match. Ben Churchill until his recall back to his Army unit was the strongest performing individual in the matchplay and Andrew Windsor who continued to be promoted up the order won matches against some strong individual opposition eventually winning Dorst?s best playing performance for the week. James Wythe making his first full and inclusive South West week played determinedly against older and stronger opposition and finally Tom Leech whose grit and determination was inspirational to the team as a whole.
On a personal note I have learnt a great deal and will put this into practice next year when the week will be hosted by Devonshire at Royal North Devon Golf Club. This week takes a great deal of organisation which our new Secretary Ian Hulse took on and passed with flying colours. We were also aided by a number of people, ex-players, county officials and individuals who came and caddied, cheered on and generally supported our efforts. My sincere thanks go to all those people who made the week possible I am just disappointed that as a team we were unable to do better. However providing we learn from this year I see no reason why next year we cannot do much better after all we were very close this year and just needed that extra bit of luck or confidence which would enable us to finish our games in a more positive fashion.
---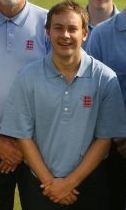 Congratulation to Andrew Windsor who pipped Luke Joy by half a point to win the Andrew Windsor