Results - 2007 - South England Boys Open Championship
Sherborne and Yeovil GC 30 & 31 July 2007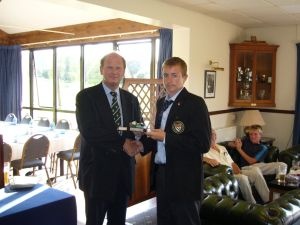 On the first day of summer with the sun shining the SEBO got under way at Sherborne defending champion Sam Robertshaw (Army GC) making a fine start of his defence with a 68 to lead the field by one from Levi Johnson (Canterbury GC). The story was different in the afternoon, Sam found the going tough shooting 81 to finish the day on 149 in joint seventh place. Levi had a 74 and finished on 143 one shot clear of Tom Gamble who had the best afternoon round of 68. Dorset?s young star Cory Coshan having had 77 in the morning produced a good 71 in the afternoon to put him into contention.
So we then moved to Yeovil and again the sun shone bright and Cory continued with his fine vein of form at Yeovil to come home in 68 with Rushmore?s Ben Stow. This put him on 216 one shot ahead of Ben Stow and Levi Johnson.
The cut was made and the top 30 players went out in the afternoon to do battle. Levi Johnson produced a sizzling 69 to take the title by some 5 shots from Ben Winner Levi JohnsonRiches. Sadly for Dorset a bogie at the last meant Cory missed the chance of a play off with Levi Johnson. (Subsequently an error on the card led to his unfortunate disqualification) still he is young enough to come bouncing back next year.
Prize Winners
South England Boys Open Championship:
Champion - Levi Johnson - 286 Canterbury GC
Runner up - Ben Riche - 291 Sweetwoods Park GC
Third - Max Smith - 291 Newbury Racecourse GC
Under 15 Champion - Billy Downing - 297 Truro GC
Levi Johnson SEBO Champion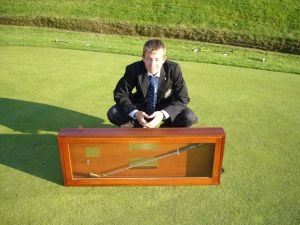 Ben Riches Runner Up
Max Smith Third Place
All SEBO Prize Winners