Results - 2007 - Seniors
Seniors v Hampshire - 07 September 2007 - Parkstone GC
Result: Dorset 5? Hampshire 4?
Match report: With the strength of our senior squad on the increase the match against Hampshire finished the season off with a resounding win for Dorset at Parkstone last Friday. With Hampshire still able to wrestle the title from Kent the game went all the way to the last match which saw Dorset's David Backhouse 1 down secure a birdie to gain a halve thus giving the Dorset win.
Results: Individual result sheet and Captains report
---
Seniors v Sussex - 29 August 2007 - West Sussex GC
Result: Dorset 4 Sussex 6
Match report: West Sussex at Pulborough is a magnificent and difficult golf course. The heather would have done credit to any highland estate it was so thick, however playing out of with a golf club and ball was a nightmare, assuming you could find the ball in the first place. A reasonable result. Five all would have been nicer but we were never quite close enough for that.
Results: Individual result sheet
---
Seniors v Somerset - 16 August 2007 - Bulbury Woods GC
Result: Dorset 5? Somerset 5?
Match report: Heavy rain came down as we started which soon eased and the afternoon was very pleasant for golf. The course was in good condition and much enjoyed by all. Many of us had not played at Bulbury Woods for a long time so the new holes were felt to be a definite improvement. The result was much better for us with a whitewash very nearly achieved.
Results: Individual result sheet
---
Seniors v Wiltshire - 08 August 2007 - Kingsdown GC
Result: Dorset 1 Wiltshire 5
Match report: Three years ago the family of the late Jock Lawrence gave us a Quaish to commemorate his life playing at first team level for both counties. Home advantage has definitely been an advantage as they won the first one, we won at home last year and now they have won again. The weather was fine and the course in good condition so a most enjoyable day, apart from the result.
Results: Individual result sheet
---
Seniors v Devon - 16th July 2007 - East Devon GC
Result: Dorset 2? Devon 3?
Match report: We were very lucky with the weather as the day before they had had torrential rain. An interesting cliff top course, local knowledge certainly paid off, particularly on the greens. Devon had put out a strong team and it would have been nice to have held them to a draw but it was a friendly and very important for our team to learn the course before next week?s National Team Championship Qualifier which is also at East Devon.
Results: Individual result sheet
---
Seniors v Surrey - 09th July 2007 - Hankley Common GC
Result: Dorset 2? Surrey 7?
Match report: We drove up through some heavy showers but in the event the rain held off. Hankley Common is a lovely heathland course but too often we did not notice that the fairway was very much preferable to the heather and paid the price every time. Surrey have got off to a very good start in the league and I am told that they have found out how to beat Kent so they may be the league winners.
Results: Individual result sheet
---
Seniors Championship - 28th June 2007 - Knighton Heath GC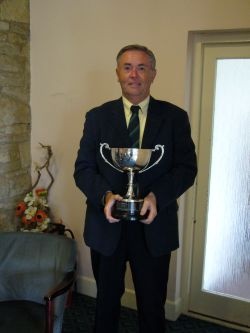 John Nash from Broadstone GC finally got to hold theJohn Nash Seniors Champion Seniors Championship Cup as he became the County Seniors Champion at Knighton Heath. In dry but cloudy conditions not helped by a blustery wind John shot an excellent 1 under par 69 to secure victory by three shots from the home favourite and recently Crowned Club Champion Robert Dilkes 72. John admits to being lucky at times but in this game you make your own luck. The birdie at seventeen was a good feat given the wind conditions.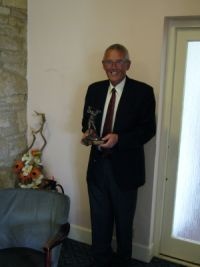 THE HANDICAP Champion was Charles Foster from Came Down GC who off an eleven handicap shot a remarkable 77 net 66 and was left wondering who entered him so he could thank them!
The age group prizes went to the following:
Over 70s:
Scratch: Mike Joslin Bridport GC
Handicap: Robin Goffe Lyme Regis GC
65 to 69
Scratch: Graham Taylor Knighton Heath GC
Handicap: Allan Jones Sherborne GC
60 to 64
Scratch: Roger Driver Lyme Regis GC
Handicap: Brian Matthews Bulbury Woods GC
55 to 59
Scratch: Campbell Boal Broadstone GC
Handicap: Brain Hansford Came Down GC
Finally may I thank all the players for entering and ask all Seniors to give it a try next year. I find it astonishing that a County such as Dorset can not get 60 plus seniors into such a Championship. If only two from each club were to enter that would be 66 and I am sure each and every club has many good senior players that could grace such an occasion.
Come on stop hiding and let?s see some more in next years Championship.
---
Seniors v Kent - 20th June 2007 - Ferndown GC
Result: Dorset 2 Kent 8
Match report: A pleasant, rather breezy day saw us up against a very strong Kent side, starting with Chris Reynolds off plus 1 with nobody higher than 3. All matches were played in splendid spirit with all players especially the Kent side playing well. On reflecting with the Dorset side afterwards it was clear our opponents who won were all level all below par on completion of the game.
The good news from the Captains prospective was the three new players introduced with handicaps of 3 or below contributed one and a half points of our total. They will definitely strengthen up the squad available for our next match against Surrey along with the regulars who were away on holiday.
Results: Individual result sheet