Results - 2007 - Juniors
Under 14's v Devon 16 Aug 07- Tiverton GC
Result: Dorset 6 Devon 3
Match report: A very good result considering most of the boys hadn?t played the course before. Harry Mitchell after being 2 down after 10 birdied 4 of the next 7 to win. Fraser?s attitude was very good as he was 6 down with 7 to play but battled on and only lost 3/2 in the end. I was pleased that Jordan Howlett won a singles match and he played very well considering he is going through many swing changes.
All in all, there were a lot of positives to come out of the match especially in the way all the boys helped each other in the foursomes and it was a good way to end the year.
Results: Match sheet and full report
---
Dorset County Golf Union - Cyril Nash Memorial Trophy
Wareham GC 3 August 2007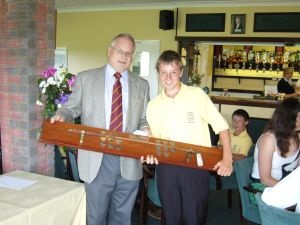 On a glorious summers day Dudsbury Golf Club cleaned up at the Inter-club Cyril Nash Memorial Trophy competition. Nine clubs from within Dorset entered teams (lets try making it more next year) a total of 50 boys took part in the stableford competition with some fine play on a well presented course. First club house leader was Ben Lenton from Knighton Heath a great score of 39 points followed shortly by team mate Zak Williamson with 38 and these two led the way for some time until the late starters from Dudsbury started to come in. First was Steve Fuggart 38 points having been honest enough to ask for a ruling that cost him two shots. He was followed by Luke Savill with 39, but then the best was stillTom Rickman to come as Tom Rickman amassed a total of 44 points to take the trophy closely followed in by young Tom Parsons with 39 points pinching second place on count back. (Handicap cuts are on there way.) These two late comers also gave Dudsbury B the team trophy with a stunning 112 points from Dudsbury A on 108 closly followed by Knighton Heath on 106.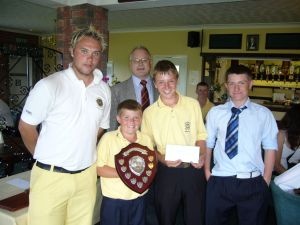 Individual Results
First Place Tom Rickman Dudsbury GC 44 points

Second Place Tom Parsons Dudsbury GC 39 points

Third Place Luke Savill Dudsbury GC 39 points
Team Results:
First Place Dudsbury B 112 points

Second Place Dudsbury B 108 points

Third Place Knighton Heath 106 points
---
Dorset County Golf Union Age Group Championship
Weymouth GC 1 August 2007
On a glorious summers day all the young guns from around the County met at Weymouth golf club for the Under 16?s Championship and the subsequent Age Groups 15,14,13, and 12. All with the exception of the under 12?s took part in a medal round with the young guns playing stableford There was some very fine golf played and all enjoyed the day. There is some fine young golfers coming through and we look forward to the Under 14 Alliss masters this coming year to once again see this talent on show. Congratulations to Rob Cunningham from Ferndown GC with a splendid gross 71 the best round of the day making him the 2007 Under 16 Champion.
Under 12 Champion David Lown Weymouth GC 43 points
Under 13 Champion Tom Parsons Dudsbury GC gross 85
Under 14 Champion Robert Mabb Weymouth GC gross 74
Under 15 Champion Tom Robson Weymouth GC gross 77
Under 16 Champion Rob Cunningham Ferndown GC gross 71
Champions and Runners up Under 16 , 15, 14 , 13 & 12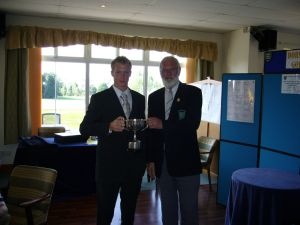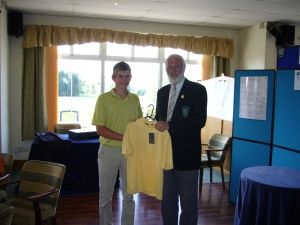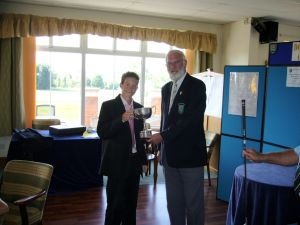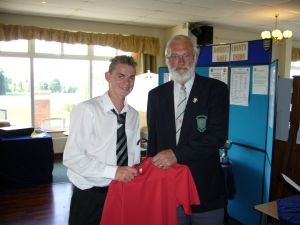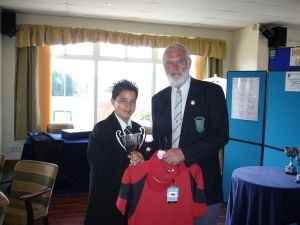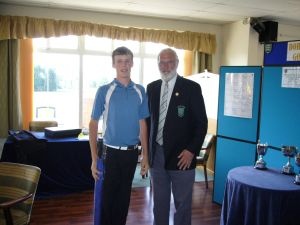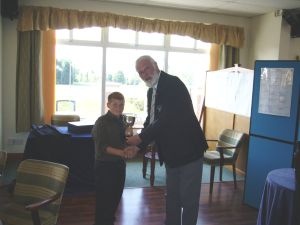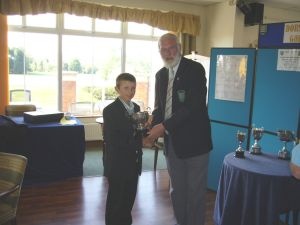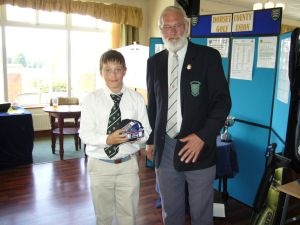 ---
Over 18 / Under 18 Foursomes Isle of Purbeck Golf Club 24 July 2007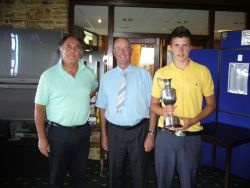 On a bright sunny day at a wonderfully presented Isle of Purbeck golf course the County Adult / Junior foursomes got under way. This year saw a good turnout with a field of 51 pairs.
The course possibly got the better of some but with a splendid 37 points Jon and Sam Parsons from Ferndown ran out comfortable winners of the event, second place went to Simon Duck & Tom Rickman Dudsbury GC with 35 points (winning on count back), with third place going to Phillip Holloway & Ben Trickett
The team shield was won by Ferndown A consisting of Richard White & Tom Trickett, Phillip Holloway & Ben Trickett and Peter & Isaac Fredericks with a total of 69 points three ahead of Weymouth B on 66 which included Geoff Cotton who presented the Bunny Cotton Memorial Trophy. Thanks to all those who took part in this great competition.
---
SWCGA Boys Championship Enmore Park - Thursday 19 July 2007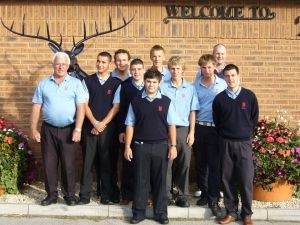 The team of Jay and Cory Coshan, James Wythe, Darryl McMahon, Jon Welch, Brent Graham, Rowan Smith and Lloyd Walton, SW Boys Teamplayed in the South West Boys Championship at Enmore Park credit to all the boys who gave of there best. The six team members came joint third with Cornwall losing out to Gloucestershire in second second place by one shot with Somerset winning the team event a further eight shots ahead. On an individual basis Jay Coshan produced the best Dorset two round total of 143 to finish in eighth place closely followed by brother Cory on 144 finishing in tenth place
---
EGU McGregor Trophy 2007
Congratulations to Ferndown's Corey Coshan on achieving a very creditable 15th place in this years McGregor Trophy played at a wet and windy Southport & Ainsdale. The competition was curtailed to 54 holes so who knows what might of happened! Corey is another fine junior from the County Elite Squad training programme with a promising future. It promises to be an interesting SEBO with the winner and several other placed boys on the start sheet.
---
SWCGA Boys U16 and U14 Championship 1 Jun 07- Tiverton GC
The Inaugural South West under 16 and 14 championship took place at Tiverton GC on the 1 Jun 07. Playing the course blind with no practice round there was some creditable results from the Dorset boys.
---
Dorset Boys v Dorset Captains 31 May 07 - Ashley Wood GC
A very good day had by all, well looked after by the Captains and Ashley Wood GC.
---
Boys County Championship 29 May 2007 - Sherborne GC
James Wythe Cleans Up at Boys Championship.
James Wythe from Ferndown GC became the County Boys Champion at James Wythe Boys ChampionSherborne. In dry but blustery conditions his first round score of 70, a very good 2 under par was some 6 shots better than his nearest rivals Ben Heap (Ferndown) and Jon Welch (Weymouth) it also secured him the Weymouth Cup (best net) and he will go forward as the Telegraph winner hoping to win a place in Dubai. With the wind getting stronger in the afternoon scoring was going to be difficult but with a round of 75 just one shot more than rival Jon Welch (74) James became the Boys County Champion receiving the Ruttle Challenge Cup and Silver Medal. The team event was won by Ferndown A, consisting of James Wythe assisted by Jay and Corey Coshan, they will now represent Dorset in the EGU Junior Champion Club event at Spalding GC 20/21 Oct 07.
---
Under 14's v Cornwall 5 May 07- Launceston GC
Result: Dorset 3 Cornwall 6
Match report: The match was played at Launceston GC which was in fine condition as was the weather. The format was 10 holes foursomes in the morning and 18 holes singles with Cornwall running out winners in a closely contested match.
Results: Match sheet and full report
---
Alliss Masters (Matchplay) - 15 & 22 April 2007 - Ferndown GC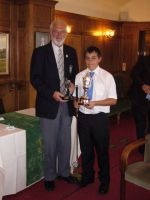 Winner - Daniel Oliver Yeovil GC
Match report: The competition started in October last year with 33 boys with handicaps of 28 or less entering, firstly at Ferndown's President Course, Knighton Heath, Dorset Golf & CC and finally Yeovil's Newton course. The boys top 3 out of 4 scores counted with the top 16 qualifying for the matchplay stage, held at Ferndown over the 15 & 22 April 07.
Eventually this resulted in semi finals of Daniel Haymes v Daniel Oliver winning 2 up and Tom Parsons v David Lown winning 1 up.
The final during the afternoon between Daniel Oliver and David Lown saw the lead change hands a several times and eventually went to the 18th with Daniel Oliver holing from 3 ft to win 1 up. A big thank you to both Richard White and Bill Kennedy for all their hard work.
Result: Match play results
---
Four Counties (Strokeplay) - 11 April 2007 - Minehead GC
Winner: James Wythe - Dorset James Wythe - Dorset
Report: On a calm sunny morning the Four Counties Strokeplay Competition got under way on the par 71 Minehead and West Somerset Golf Course. The scoring was very good and resulted in a three way tie between Max Brittan and Jack Palmer from Somerset and James Wythe. There followed a sudden death play off between the three, James and Max birdied the first so the two went on to the next hole which saw James hit in a glorious second to within 5 feet which was duly sunk for another birdie and the individual title.
Results: Full competition results
---
Henderson Trophy (Strokeplay) - 02 April 2007 - Dudsbury GC

Winner: Darryl McMahon Yeovil Darryl Mcmahon Stokeplay Winner
Match report: With an aggragated total of 148 Darryl pipped his rival James Wythe to the win the Henderson Strokeplay Salver by two shots.
Results: Full competition results
---
Henderson Trophy (Matchplay) - 04 - 05 April 2007 - Dudsbury GC

Winner: James Wythe Ferndown GC James Wythe Matchplay Winner
Match report: After one and a half days hard fought match play the final went to form with top seed Darryl McMahon meeting the second seed James Wythe. With neither making much gain the match was a close fought encounter both players battling hard James came out on top as they reached the seventeen to secure a 2 and 1 victory . James retains the trophy from last year and with this being his last as a junior leaves the competition as Champion.