Inter-Club Mixed Foursomes
Played at Rushmore GC on Sunday 5 August 2007.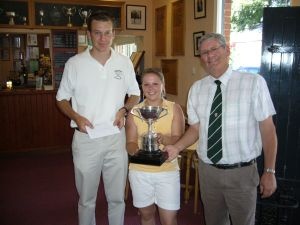 On the hottest day of the year so far the Inter-Club Mixed foursomes got under way at Rushmore GC. With a moderate entry from the clubs around the county the event is played in two sections Scratch and Handicap. First out were the scratch pairings and in first were Steve Sanger and Lorraine Richardson from Ashley Wood with a respectable 81 having met with the greens which were difficult to read and fast to putt on. Some time later Calvin Drage and Jordan Mabb from Weymouth GC came in equalling the 81 of the Ashley Wood pair but with a better back nine total so they looked good with just three pairs to go but in this group were reigning champions for the past two years Josh Vincent and Kerry-Ann Haskell from Broadstone GC, Josh Vincent & Kerry-Ann Haskellthe pair looked tense and somewhat deflated as they strode of the eighteenth green thinking they had blown it coming home with a 78 but to their surprise and delight they retained the trophy for a third year running. Well done to them both.
Inter-Club Mixed Foursomes Scratch Results
Winners Josh Vincent & Kerry-Ann Haskell Broadstone GC gross78
Runners Up Calvin Drage & Jordan Mabb Weymouth GC gross 81
Third Place Steve Sanger & Lorraine Richardson Ashley Wood GC gross 81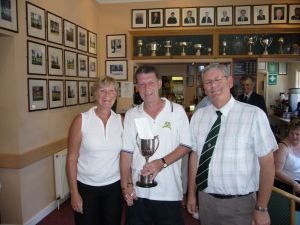 The Handicap section was much better supported with some 16 pairs taking part, all the players found the greens tough to putt on. The first club house leader?s were Mark Staniland and Danielle Lown Weymouth GC with a gross 82 net 74.5 they held this for some time until Peter and Beryl Watts from Sherborne GC came in with a gross 90 net 73.5. Peter and Beryl held on to the lead until the last pairings came in, one of which was John Sanderson and Sandra Wright from Queens Park John Sanderson & Sandra Wrightwho came home with a gross 86 net 72 and became the Inter-club Foursomes Handicap Winners, ensuring Queens Park held onto the trophy for another year.
Inter-Club Mixed Foursomes Scratch Results
Winners John Sanderson and Sandra Wright Queens Park GC net 72
Runners Up Peter and Beryl Watts from Sherborne GC net 73.5
Third Place Mark Staniland and Danielle Lown Weymouth GC net 74.5
Scratch Runners up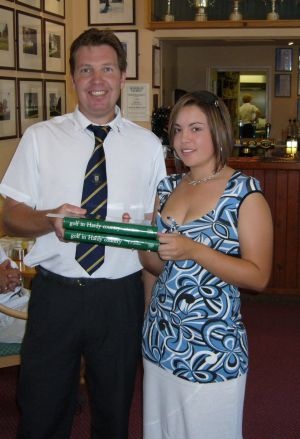 Handicap Runners Up