Results - 2007 - First Team
1st Team v Kent - 09 September 2007 - Mid Kent GC
Result: Dorset 3? Kent 8?
Match report: Dorset travelled to Mid Kent with 6 players making their first appearance for the first team in this seasons last South Easter League Match. Only Andrew Windsor and Matt Walker are regular first team players. It was an opportunity to reward some good play from the youngsters during the year, to give them the opportunity to see the standard of first team golf and to test their potential for the future.
Results: Match sheet and full captains report
---
1st Team v Sussex - 02 September 2007 - Broadstone GC
Result: Dorset 3? Surrey 8?
Match report: Dorset entertained a very strong Sussex side at Broadstone Golf Club, the course was beautifully presented and playing very well with Sussex running out comfortable winners and turning the tables on us, the win gave them the league title this year.
Results: Match sheet and full captains report
---
1st Team v Surrey - 19 August 2007 - Yeovil GC
Result: Dorset 4 Surrey 8
Match report: Dorset entertained a strong Surrey side at a wet and windy Yeovil Golf Club. Despite lots of rain in previous days the course was presented beautifully and was in a marvellous condition.
Dave Cook and Dave Norton led out the foursomes and despite some strong golf a couple of missed short putts made all the difference and they lost 2/1. A new combination of Luke Joy and Matt Walker played some first class golf and were 4 under par when they won their game 5/4. However some strong combinations at the back saw both Dorset?s pairings lose the final two games.
In the afternoon singles Luke Joy who returns to his American college was completely out of sorts and lost heavily to Mark Raven. Dave Cook played some consistent golf against a difficult opponent but ran out a 2/1 winner. However Dorset?s middle order did not play to their full potential and all lost their games despite promising starts.
Tom Leech and Giles Legg both played particularly well running out 4/3 winners but Surrey won the tie overall 8 ? 4.
Results: Match sheet and full captains report
---
1st Team v Royal Navy - 08 July 2007 - Yeovil GC
Result: Dorset 9? Royal Navy 5?
Match report: Considering the conditions a young Dorset side showed great maturity and tenacity in coping with the more experienced Navy players and the inclement whether to post a confident win. Most were making their senior debuts but clearly Jon Welch and in particular Cory Coshan played some of the best golf of the day and hopefully they will continue to make steady progress.
Results: Match sheet and full captains report
---
1st Team v Hampshire - 5&6 May 2007 - Royal Jersey GC
Result: Dorset 3? Hampshire 8?
Match report: Hampshire win ?Royal? encounter. Dorset undertook a long term commitment to play Hampshire, Isle of Wight and the Channel Islands Golf Union in Jersey on the 5/6th May. The venue was Royal Jersey Golf Club, Grouville, a golf course which on paper at 6116yds does not reflect the true difficulty that actually awaits any standard of golfer. The advice given to the team by the local professional was ?leave the driver in the bag, especially on the back 9 and hit as many practice putts as you can from 10 feet?.
Results: Match sheet and full captains report
---
1st Team v BB&O - 29 April 2007 - Lambourne GC
Result: Dorset 7? BB&O 2?
Match report: Dorset travelled to Lambourne Golf Course (Buckinghamshire) a parkland curse some 6700yards long for their last friendly before the season starts in earnest. This was another chance for Captain Chris Dennis to try some different foursome?s pairings and also ensure that all those that were able and participated in the winter coaching programme had a chance to represent the County.
Although Dorset had not seen the course or had the chance to practice on it, Ben Harvey and James Wythe got Dorset off to a bright start they played consistently with Ben Harvey hitting some great iron shots, on the 8th hitting his ball to within 12 inches. Matt Walker and Dan Smith also played very consistently with Dan almost holing out from 130yds with his second shot on the par 4 - 10th. Dorset had the opportunity to move ahead but Lee Booth and Iain Donnelly who started well had a bad spell in the middle of the round and they who were unable to claw back enough holes eventually losing on the 18th by one hole. However 2 ? 2 leading into the afternoon foursomes was a positive result and the players responded accordingly winning well in the afternoon.
Ben Harvey led the team out and had a real ding dong battle with Tim Newton before halving the game. James Wythe continues to make good progress finishing his round under par and one up against Craig Hinton who must have wondered if James would ever miss a putt from inside 10foot!
Matt Walker also played sub par golf chipping in at the 7th before winning his match 1up after finishing birdie par. Tom Leech, Lee Booth and Mark Balson all played well enough to close out their matches and everybody was on the last green to see Dan Smith narrowly lose after hitting a fantastic 2nd shot to 10 foot, but was unable to convert the putt. Captain Chris Dennis said ?I have been extremely pleased with everybody?s positive attitude, we are showing improvement in our foursomes and short games, all areas that we worked on during the winter. Our first league fixture is against Hampshire (away) next week. It will be a very competitive game but if we can take the same attitude and application with us I hope we can come back with a result?.
Results: Match sheet and full captains report
---
1st Team v The ARMY - 22 April 2007 - Broadstone GC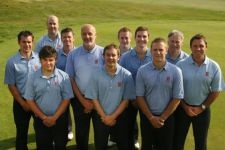 Result: County 12 Army 3
Match report: An extremely pleasing performance in particular our foursomes playCaptain plus 1st Team Squad which, showed great improvement and although the overall result was superb we were concentrating on our foursomes results, that was the most important issue of the day. We now have one more friendly against BB&O next weekend when I will experiment with some other pairings before the season starts in earnest. Pleasingly everybody contributed to the team?s performance today and this bodes well for the rest of the season?
Results: Match sheet and full captains report