Results - 2007 - County Strokeplay Championship
Came Down GC Sunday 12 August 2007
On arrival at Came the weather was bleak as a fine drizzle came down and clouds loomed all around, this was soon to blow over leaving us with a fine sunny day and a slight South Westerly wind blowing. The Championship got under way with Tony Lawrence, David Cook and the County Vice President John Smith leading the way and setting a fine pace of play. Tony leading the Donald Holmes 72 hole trophy with that blistering 133 at Yeovil was not firing on all cylinders and came home in 77. David cook shot a great 68 along with Luke joy to hold the first round lead. These scores were followed in by Andrew Windsor 69, Ben Churchill 71, Calvin Drage 73, Giles Legg and Tom Leech on 73.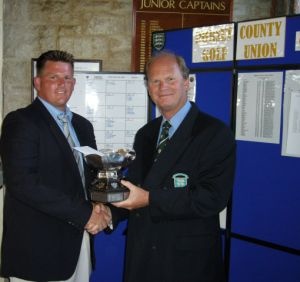 The second round got under way David Cook 77 and Luke Joy 81 failed to capitalise on there first round form, and with Tony Lawrence failing to put in a return the Championship was wide open and was retained by last years winner Ben Churchill Ben ChurchillDudsbury GC who sunk a 18 foot putt on the last for a round of 70 and a total of 141 edging out David Norton Parkstone GC who returned a fine afternoon score of 68 for a 142. Andrew Windsor came third with a 74 giving him 143 total. It was a very good day for Ben Churchill who also won the Donald Holmes Championship Cup 71,70,71,70 total 282 and took the Counties Order of Merit with a total of 56 points. The team event was won by Parkstone (David Norton, David Cook and Tim Adams) with a 442 total from Ferndown who had the same total but lost on count back.
The Handicap Prize was a close fought battle between Calvin Drage Weymouth 141 and Came Downs own Brian Hansford, Brian came out on top by two shots with a 139 total. Terry Falck from DG&CC came third.
Ben Churchill Order of Merit Winner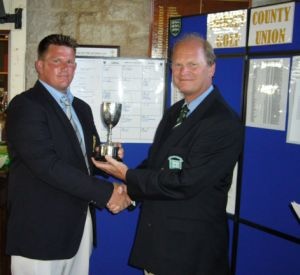 David Norton Strokeplay Runner up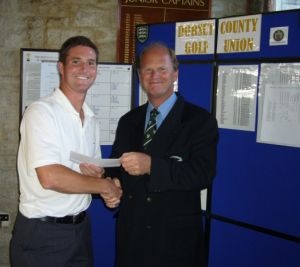 Calvin Drage Handicap Runner Up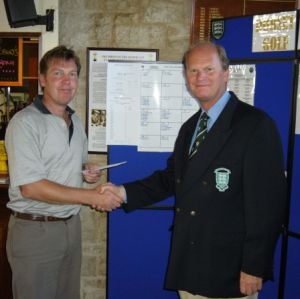 Ben receiving the Donald Holmes Trophy