Results - 2007 - Category Championship
This years Category Championships have been played at courses around the County and the four finalists have now been decide for the play-off which will take place at Dudsbury GC on the 2nd June 2008 starting around 1600 hrs. The finalists are:
Category I Justin Morris Bournemouth & Meyrick Park GC played at Weymouth GC
Category II James Coates Wareham GC played at Chedington Court GC
Category III Richard Stalley Ferndown GC played at Highcliffe GC
Category IV Jackson Bowes Yeovil GC played at Bridport & West Dorset GC
Congratulations to all the players who took part in the various Championships and for those players who failed to turn up you have missed out on the chance to go through to an all expenses paid weekend of golf at Woodhall Spa the home of the EGU with very challenging courses.
The four players above will battle it out in June to see who will represent Dorset next August.
If you wish to have the chance in next years Championship keep an eye out for your club Qualifier.
Full result sheet Category I Championship
Full result sheet Category II Championship
Full result sheet Category III Championship
Full result sheet Category IV Championship
---
2

007 Catergory Playoff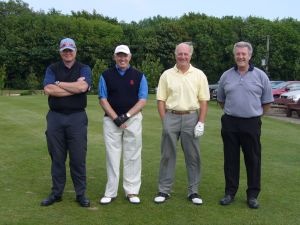 Monday evening saw the four finalists winners from last years category championships 2007 Finalistsmeet at Came Down GC for this year?s play off to see who would represent Dorset at Woodhall Spa in the EGU Gold Medal Competition. The four finalists were Graham Taylor Knighton Heath GC, Mel Holliday Parkstone GC, John Groves Broadstone GC and Paul Fowler DG&CC. The weather was bright but there was a strong north wind making play difficult. The format is Strokeplay over 18 holes and scoring was difficult given the wind. Mel Holliday Category Winner
The eventual winner was Mel Holliday with 86 net 76 and he will go forward to represent Dorset. Congratulations Mel enjoy your trip and play well.